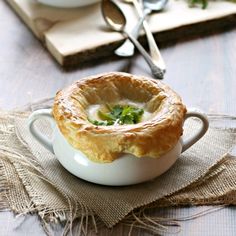 Ingredients

3
large Vidalia onions, thinly sliced
4
cups
beef stock or low sodium beef broth
frozen puff pastry, at room temperature
1 ½
grated Gruyere cheese
Directions
2
Add onions and cook uncovered, stirring occasionally, until soft and golden brown, about 30-40 minutes.
3
Add flour and stir for about 1 minute.
6
While soup is cooking, prepare pastry.
7
Preheat oven to 400 degrees.
8
Place 1 pastry sheet on a lightly floured board and sprinkle with Parmesan cheese mixed with 1/2 cup of the grated Gruyere cheese.
9
Place second pastry sheet on top and roll out to a 14″ x 14″ sheet. Cut out four 5″ circles. (Use a saucer plate as your template and cut around outside onto pastry).
10
Divide soup into 4 ovenproof soup crocks. Sprinkle rest of cheese over the 4 soups. Cover with pastry lids and push down along edges to secure to the sides of the crocks. Brush with egg.
11
Place crocks on a baking sheet and bake for about 15 minutes or until pastry is golden in color.
Serve immediately