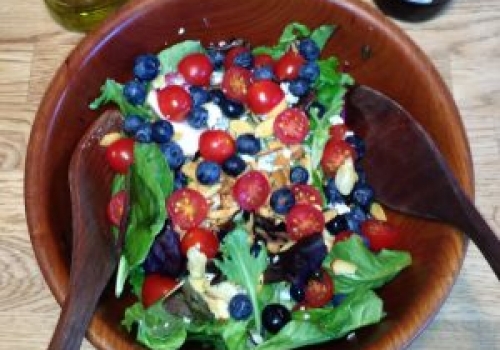 Ingredients

6
cups
(or 4 good handfuls) of spring mix salad
3
tbsp
blue cheese crumbles
20
grape tomatoes sliced in half
1
cup
fresh blueberries or raspberries
¼
cup
toasted sliced almonds
Directions
1
In a dry frying pan over medium heat, toast the almonds on the stove, watching closely that they brown but don't burn. Set them aside to cool off.
2
In a large salad bowl, toss the spring salad mix, blue cheese crumbles, the sliced grape tomatoes, the blueberries or raspberries and the cooled toasted almonds.
3
In a resealable jar, combine the Lemon Olive Oil, Blackberry Balsamic Vinegar, and Dijon mustard. Close the lid tightly and shake vigorously. The usual ratio for vinaigrette is 3 parts oil to 1 part vinegar, a higher ratio of vinegar to oil is recommended for this dressing; 3 tbsp. of vinegar to 4 tbsp. of oil.
4
When you are ready to enjoy your salad add the vinaigrette.