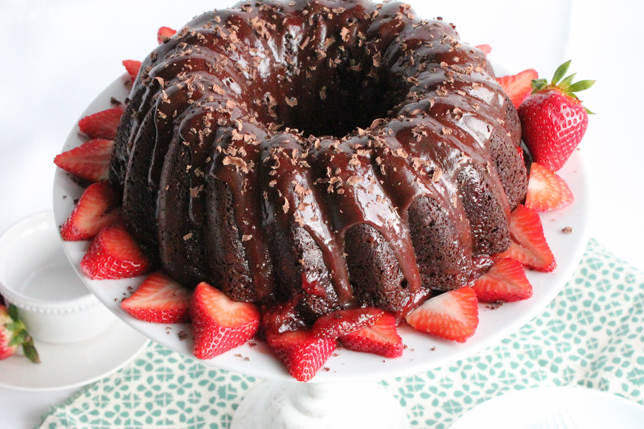 Ingredients

Cake
3
cups
all-purpose flour + 1 Tablespoon
Chocolate-Strawberry Balsamic Glaze
8
oz
semi sweet chocolate chips
Directions
Cake
2
Add a tablespoon of granulated sugar to the pan and then rotate and tilt the pan to evenly distribute the sugar in the bottom and sides of the pan.
3
Mix the flour, baking powder and salt together and set aside.
4
Using an electric mixer, beat the eggs until pale and light.
5
Add the sugar and continue mixing.
7
Add the flour, baking powder and salt mixture to the wet ingredients. Continue mixing until smooth.
8
Pour into the prepared bundt pan and place in the middle of the oven for 45-50 minutes until a cake tester or toothpick inserted in the middle of the cake comes out clean.
9
Allow cake to cool for 10 minutes and then invert onto a cooling rack.
Chocolate-Strawberry Balsamic Glaze
10
In a microwave proof bowl, heat the cream for 1 minute.
11
Add the chocolate and allow to sit for 2 minutes without stirring.
12
Whisk until all the chocolate has melted and is smooth.
14
Pour the still warm glaze over the cooled cake.
15
Allow the glaze to set up at room temperature for at least 30 minutes before serving.