Three fashion trends you need to know about…
Happy January my friends! Now that Christmas has come and gone at an alarming speed and those pesky New Year's resolutions are out of the way, it's time to focus on your fashion goals for 2018.
Have no fear; I am here to walk you through my "top 3 fashion trends" that I think every woman should have in their closet.
1. The ever so popular "perfectly cuffed denim"
Cuffing your jeans may look simple, but it is, in fact, no easy feat. As casual as this staple may be, the way you cuff your denim can and will say something about you and your personal style. A certain level of attention to detail can be an asset, and let's be honest; it can take more than one try in the morning.
Weather your shoe of choice is a small ankle bootie, a ballet style flat, or a fashion forward high heel this style will pair nicely  and feature a very "on trend" look . What type of denim you chose is entirely up to you. Skinny jeans, boyfriend jeans, straight leg or boot cut, all types of denim can be cuffed and styled just to your liking.
In store we have our Up! Denim, our Jag jean as well as our stretch jeggings. Try our distressed denim for a trendy new look.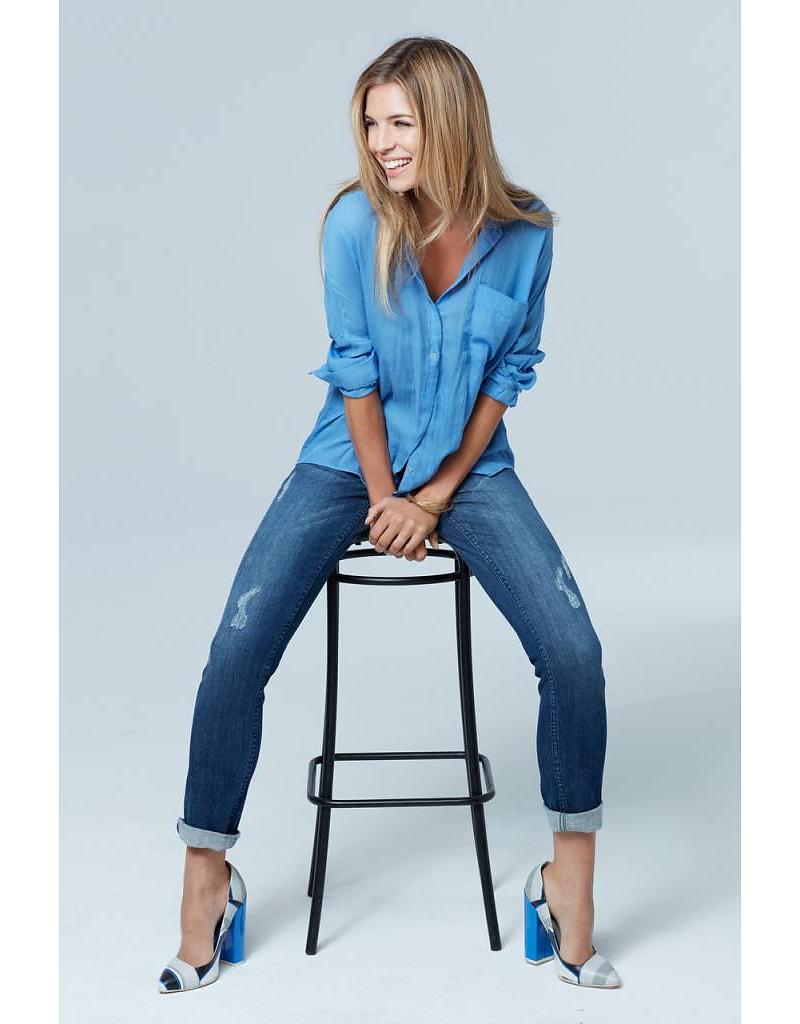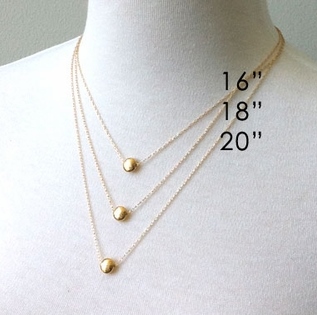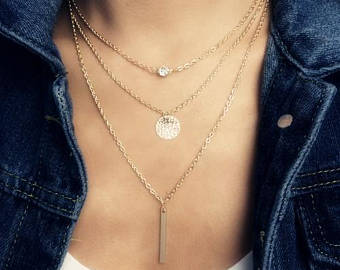 2. Master the look of Layering Necklaces
I will be the first to admit that the trend of laying necklaces through me for a loop at the beginning, but that was before I realized just how much fun you can have with it. I came across a desperate need to make this fashion trend work for myself when I realized I own far too many beautiful necklaces to let them just hang there in my bedroom. If you are anything like me you have your go to "staple jewelry" the kind of pieces that have a special meaning or a memory tied to them. They are the pieces that you really only part with for that 20 minute morning shower.
Well I was desperate to find a way to wear my everyday necklace with other fun pieces I have collected over the years. Mastering lengths is the key here my friends. Knowing not to layer multiple necklaces of the same length will be the goal. Playing with lengths and experimenting with style is how you will create a memorable collection. Try sticking with one family when grouping.  Whether it is, gold, silver, rose gold or colour pop, just keep it consistent throughout. And remember nothing to bulky; we are layering smaller pieces with the intention of creating a statement. Bulk will just overcomplicate things.
3. The versatile blanket scarf
Big, cuddly, comfortable and fashion forward. These words describe the fun flowing trend this season, the blanket scarf. A blanket scarf, just as the name implies are scarves that are so large they can basically be used as a blanket. This versatile winter/fall trend is by far one of my personal favorites! But how do you wear this oversized scarf without looking like you're being swallowed by loads of plaid fabric? This is something that I too struggled with before mastering the trend.
The blanket scarf is so versatile and will quickly become a crucial part of your fall/winter wardrobe. We are still in what feels like the dead of winter with no end in sight so it's the perfect time to cuddle up with that blanket ….or scarf of yours!
As the weather can prove to be unpredictable it's nice to be able to add the scarf to any jacket combo, but it's also quite convenient to use as your jacket. Layering is going to be your best friend this year ladies. It's cold out there so bundle up with this popular trend.
Keep warm, stay stylish and I'll catch up with you on the next blog!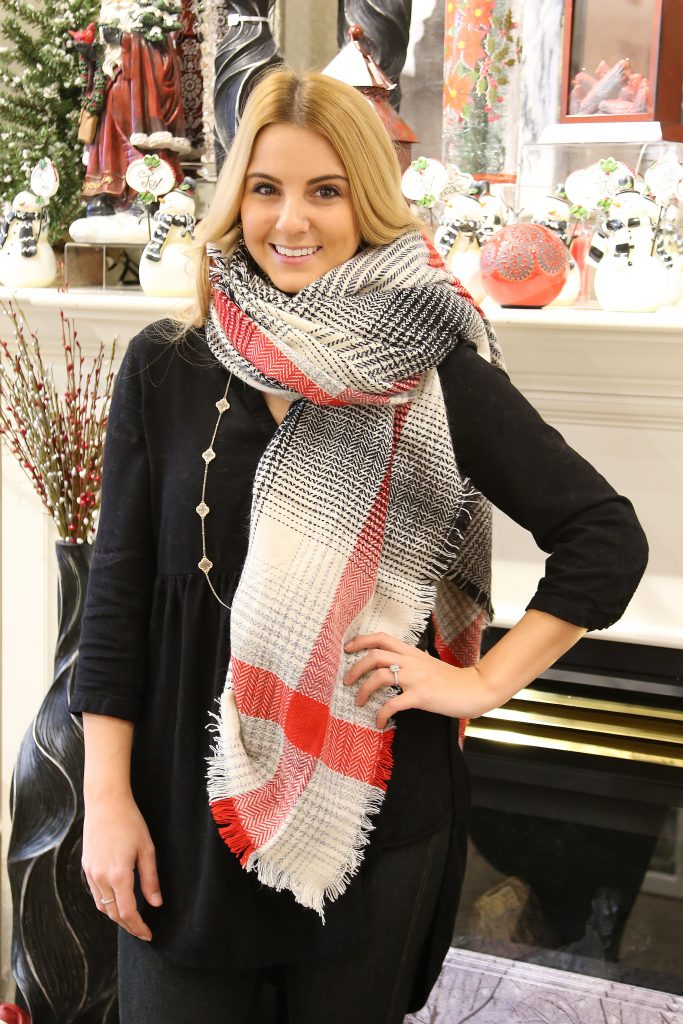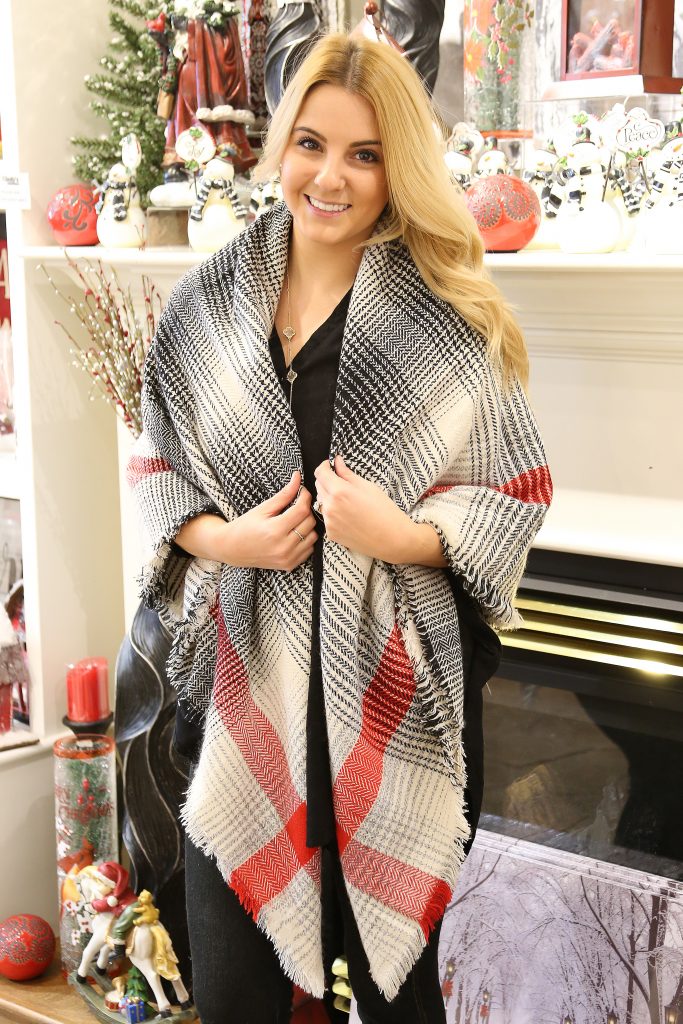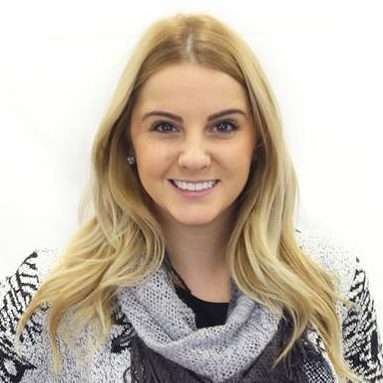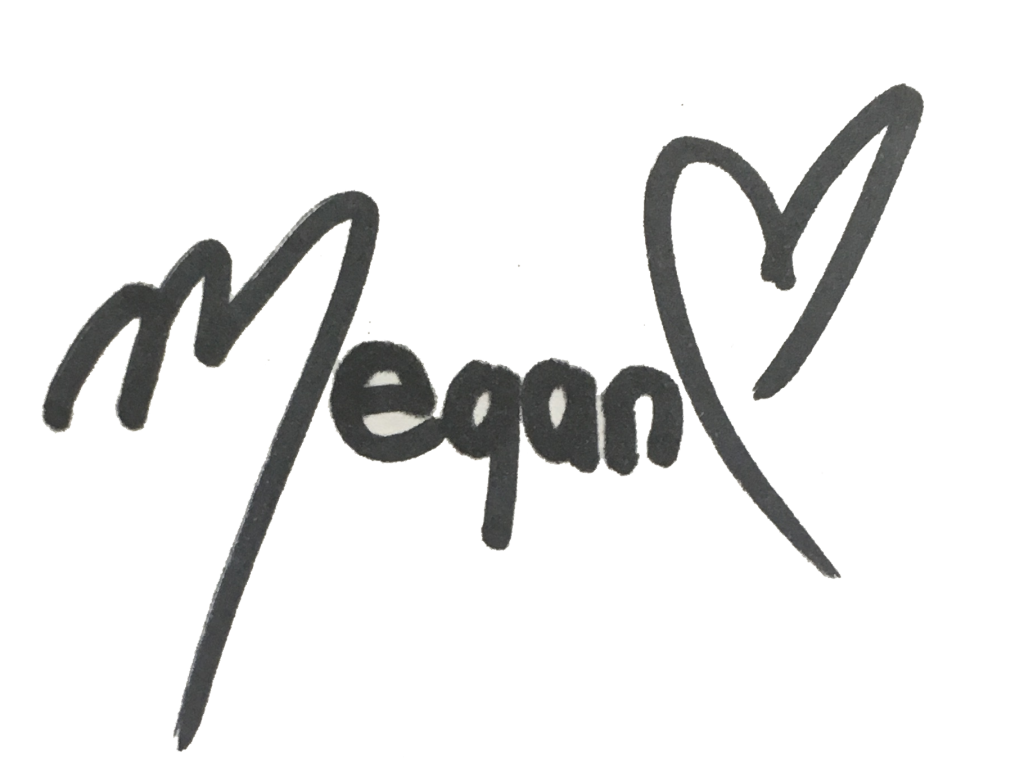 Boutique Merchandiser