I figured since we are in Strawberry season that it would only be fitting to write about all the different ways we can incorporate the wonderful taste of fresh strawberries into easy and healthy recipes.  There is nothing better than taking a bite into a fresh juicy strawberry but that freshness doesn't last too long and we are forced to think of other ways to get our strawberry fix.
Strawberry Infused Ice Cubes
I absolutely love making these and they are super easy and make a great statement when you are entertaining.  Strawberry mint balsamic ice cubes are one of my favorites and I will use this in my sparkling water, spring water and cocktails as this creates a visually beautiful drink.
Strawberry Mint Balsamic Infused Ice Cubes
1 ice cube tray
handful of strawberries, cubed or sliced (can add more or reduce depending on number of ice cubes)
1 mint leaf per cube (cut in smaller pieces if needed)
2-3 drops of Cindy's Strawberry Balsamic per ice cube (or any fruity balsamic)
Water
Directions
Fill cubes halfway with water and then add 2-3 drops of Cindy's Strawberry Balsamic.
Add 1 mint leaf in each cube (cut smaller if needed)
Add a few pieces of strawberries to the cube
Fill the rest of the tray with water
Freeze for a few hours and use in your favourite beverages
My favourite way to use these cubes are in my water and in a Sangria! YUMMY!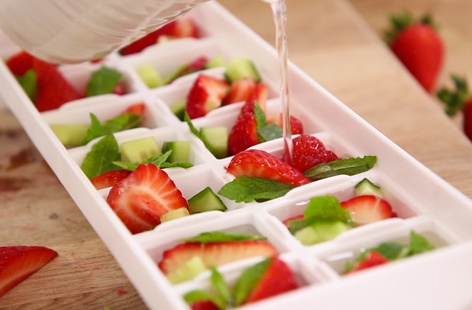 Homemade Popsicles
Nothing says summer like a cold refreshing popsicle.  I love making these yummy treats for my kids in the summer and year round. Popsicles are as simple as can be and this requires minimal effort. You can create mouthwatering frozen desserts any time you want!
Strawberry Peach Popsicles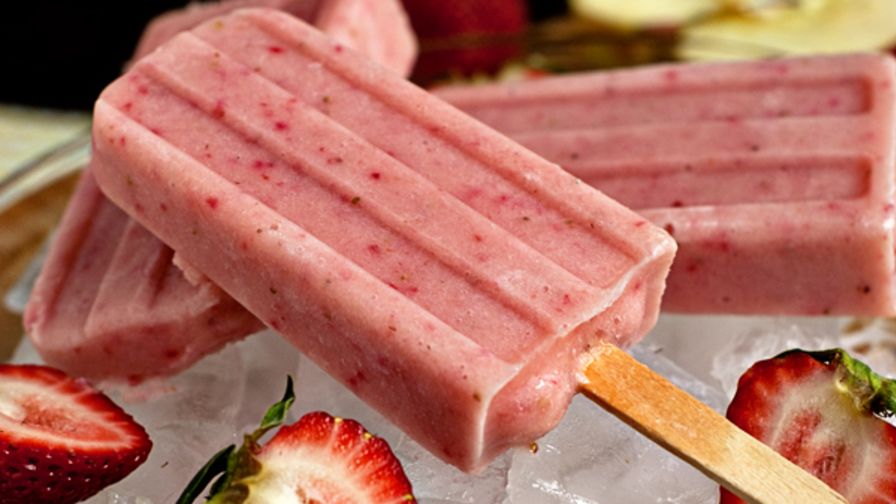 Directions
Place strawberries and sugar in a food processor and pulse until the mixture is finely chopped and juicy, but still chunky as you don't want a smooth puree.
Transfer to a bowl and stir in the balsamic vinegar and a few grinds of pepper if you choose.
Spoon the mixture into the ice pop molds and insert sticks in the middle.
Freeze until firm, approximately 6-8 hours.
To un-mold the pops, run hot water over the outside of the molds for a few seconds, then gently pull the sticks.
Mocktails
I am always trying to get creative with my non-alcoholic drinks so that my kids can enjoy them with me and these drinks are sweetened naturally as well with the Balsamic.  This lemonade mocktails is one of my favorited in the summer months.
Sparkling Strawberry Peach Lemonade
1 cup lemonade
1/2 cup sparkling water (you can always use 7-Up as well)
Directions
Pour over ice and garnish with fresh lemon and strawberries.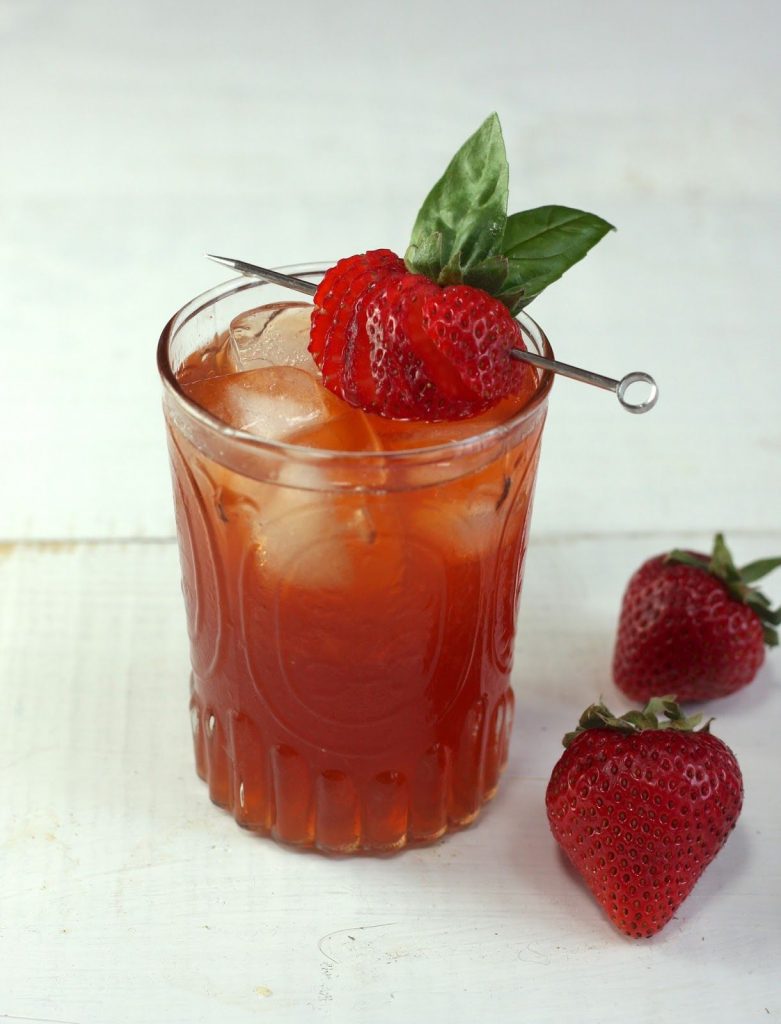 Fruit Salads
Every year I cannot wait to take advantage of all the fruit stands out in Kinsgville and the surrounding areas.  With fresh berries always available I love making this refreshing and delightful fruit salad.  This also works great when you pour this salad over angel food cake, top your Greek yogurt as well as your salads.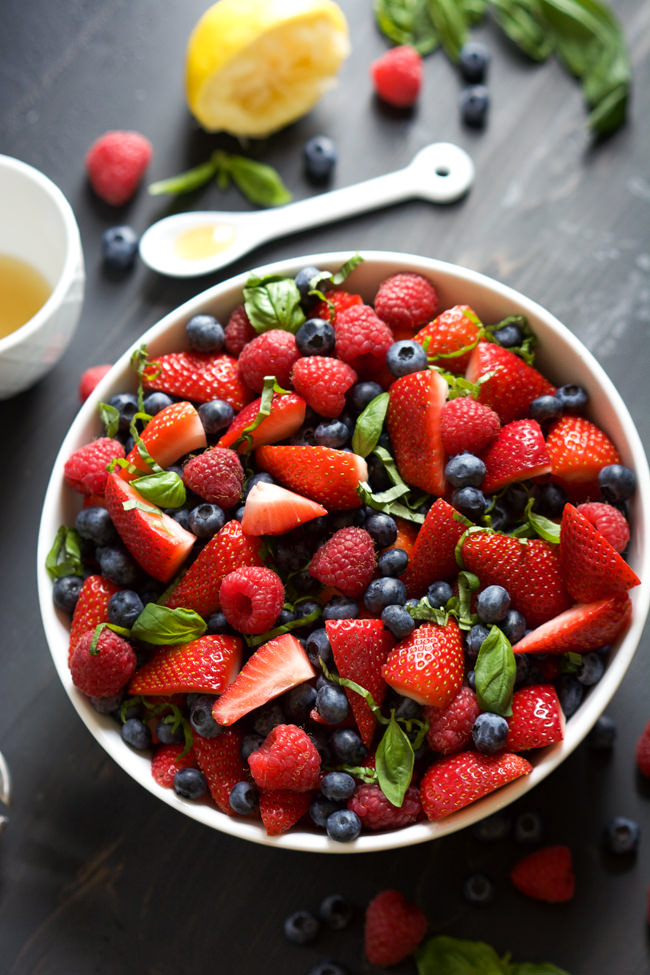 Strawberry Balsamic Fruit Salad
1 cup blueberries
1 cup strawberries, hulled and chopped
1 cup raspberries
2 cups cherries, pitted and halved
3 peaches, pitted and sliced
1/4 cup fresh mint, chopped
1/4 cup Cindy's Strawberry Dark Balsamic
Directions
Mix berries, peaches, cherries and mint
Toss with Cindy's Strawberry Balsamic
This really brings out the sweetness of the fruits for a unique and incredibly delicious fruit salad. If you really want to dress this up, place a dollup of whip cream on top or even put some premium French Vanilla ice cream on top.
Desserts
In one of my tastings we did at the store I had made an Italian Strawberry Granita.  This is a very simple recipe and is fabulous as a pallet cleanser or just a great refreshing dessert on a hot day.  My kids go crazy for this recipe and you can mix up the flavors depending on your taste.
Fresh Strawberry Balsamic Infused Granita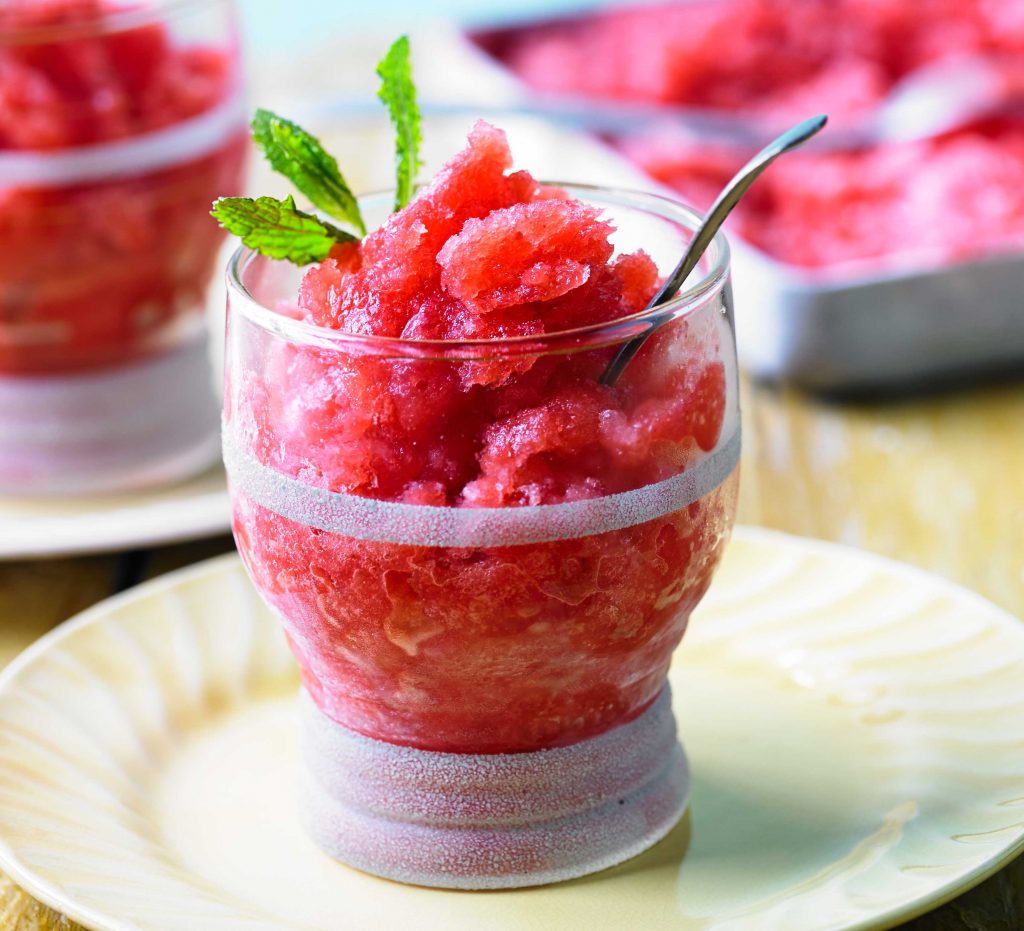 Directions
Rinse strawberries with cold water, let drain
Place berries in a blender and add sugar, water, balsamics and salt
Pulse several times to get mixture moving, then blend until smooth. About 1 minute.
Pour into a large baking dish. Puree should only be about 3/8 inch deep in the dish
Place dish uncovered in the freezer until mixture barely begins to freeze around the edges, about 45 minutes. Mixture will still be slushy in the middle
Lightly comb the mixture with a fork or wavy knife and place back in the freezer for another 45 minutes.
Take the mixture out again and run your fork through the mixture breaking up the crystals.
Continue this for a few hours until you have the consistency that you want.
Place in small bowls or tiny cups and garnish with fresh fruit and enjoy!
Please keep in mind that all these recipes can be made with any fruity type of balsamic found at Cindy's.  I hope to see you soon and happy cooking this summer!