Hi everybody! I hope your summer is starting off well. I know I am looking forward to spending time outside with the family and making delicious food on the barbeque. I associate summer with grilling and barbequing so this is always a favourite time of year for food. This week I thought I would share with you a recipe that I've tried many times and I LOVE it. This recipe uses Cindy's Tuscan Herb Olive Oil and Cindy's Peach Balsamic. This is an excellent pairing! You get the savoury taste of the Tuscan Herb Oil and the sweet flavours of the Peach Balsamic. This recipe is great if you want a new spin on the classic pork chop taste.
If you're grilling on the barbeque I recommend using grilling sheets. They reduce cleanup and save a lot of waste on aluminum foil. We have lots of really great barbeque accessories that are essential for grilling. Stop in to Cindy's Too and we can recommend any kitchen or foodie item that you may need.
For now, I hope you enjoy this recipe! If you try it out, let us know. We are so happy to see photos of recipes using our oils & vinegars! Make sure to tag us on social media so we can see it and share with others.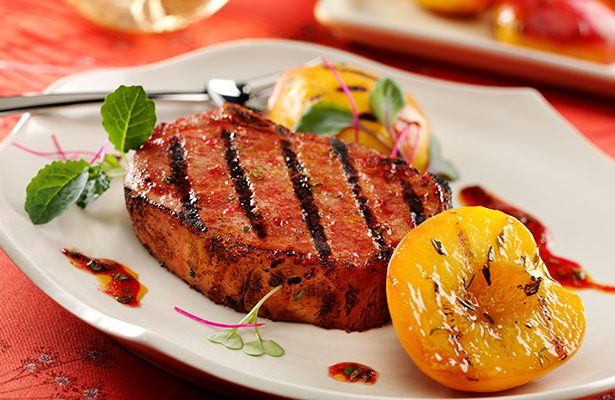 Tuscan Peach Marinated Pork Chops
Directions
In a small bowl, whisk together the Peach Balsamic, Tuscan Herb Olive Oil, honey and rosemary. Reserve 2 TBSP and add the rest to a large Ziploc bag.

Add pork to bag and refrigerate for 1 hour, turning occasionally.
Coat a grill pan with cooking spray and hear to medium-high over stove.
Remove pork from fridge, discard marinating liquid and season pork with salt and pepper.
Cook in grill pan until pork is opaque throughout and feels firm to the touch, or until internal temperature registers 160*F on an instant-read thermometer, about 5 to 6 minutes per side.
Meanwhile, cook peaches under broiler or in a grill pan over medium heat until tender and juicy, 3 to 5 minutes.
Transfer to a plate, season with pepper and brush with reserved 2 tbsp marinade.
To serve, place a pork chop on each of 4 plates and top with 2 peach halves.
Garnish with thyme leaves.