It's that time of year again!  Time to "mum-ify" your property!  Sorry I couldn't resist the mum pun…  Anyways, as you probably already know, mums are an amazing fall plant as they are very hardy and offer an extensive array of colors.  Here at Cindy's we actually carry around 24 different colors, so there's something for everyone's taste.
When I'm out in the garden center the most frequent questions I hear from customers are "Can I plant these in the ground?"  "Will they come back next year?" and "How much sun do they need?" so in this blog I am going to give you some general information on how to care for your mums after you've brought them home, as well as how to try and protect them for their possible revival next spring.
How much Sun do they need?
Let's talk sun and water first…  Mums can handle full sun in the fall, and at the very least should get a good dose of morning sun, so to keep them bushy and flowering make sure they are seeing the light.  If you do have them in full sun you must ensure you water them adequately as they do tend to be thirsty, especially if it's a warm fall. 
How much Water do they need?
As with any plant, you must ensure you do not over-water!  Another way to keep them bright, bushy and full of flowers is to make sure you are giving them fertilizer a couple times a week. A balanced fertilizer is your best bet, and we do have our Cindy's fertilizer available in the garden center if you want to ensure you're getting the right stuff.
Will they come back next year?
As for the winter…  mums are considered a perennial however there is no guarantee they will survive winter, depending on the climate zone you're in.  Assuming you're in Essex County then it's really a hit and miss proposition. If your expectation is that after you purchase your mums you will be planting them in your garden, my suggestion is you do it right away.  The sooner you get those roots in the ground and established the better chance they will have of surviving winter. Once they "die" in late fall I suggest not cutting them back. Studies have shown that leaving the foliage on helps their odds of surviving winter.  Another best practice is to cover the root area in a few inches of mulch; this acts like insulation for them. You can then shear the dead foliage off in the spring.
Mums are such beautiful plants, I really like to encourage people to get a little more creative with them.  Instead of simply planting them in your gardens or placing some potted ones on your steps, go ahead and try mixing them in combinations!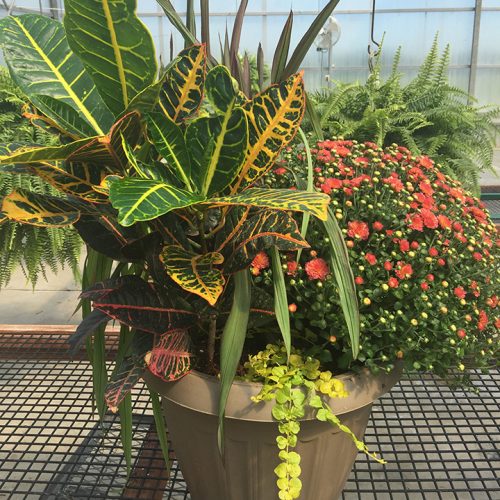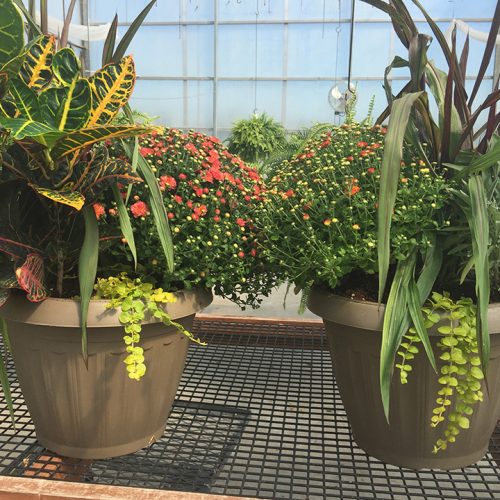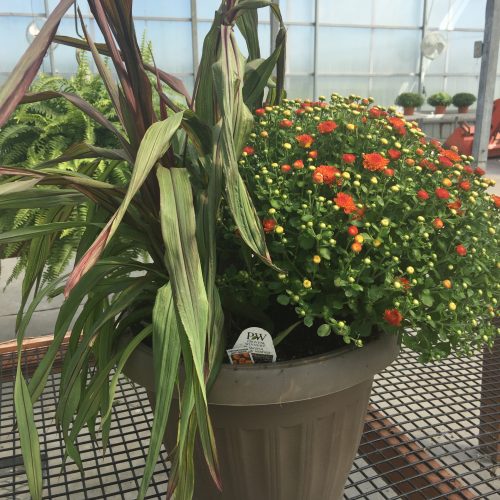 Come on in and see is in the Cindy's garden center and our knowledgeable staff can help you with any questions you may have. We can help you have the best fall landscaping on your street – remember shhhh!!  Mum is the word!!