This time of year, one of the most common questions (if not THE most) we get in the garden center is "What can I plant that's easy or doesn't need pruning?"  More often than not, we tend to point customers in the direction of perennial ornamental grasses.  They are beautiful, easy to grow, and they come in many different colors and heights.
Ornamental grasses offer a wide range of people a great landscaping solution.  For our Baby Boomer customers, it's becoming more difficult to plant flower beds, and with Kingsville and Essex County's new home boom there's a lot of people putting in fresh new landscaping.  If you're one of these people or even if you're just adding some pieces to what you already have, perennial ornamental grasses are a great way to add some pop with very little work to do as far as maintenance.  These grasses are also perfect for full sun locations where traditional flowers would not survive due to the heat.
So ok, you're convinced that you want to plant some perennial grass – now what?  Here are a few things to consider before we talk about grass varieties:
Will my grass get enough sunlight to grow to it's potential?  If you do not have at least part sun in your preferred location your grass will not grow properly.
Based on the location how tall or wide do I want my grass to grow?
Planning is key as most of these grasses are extremely difficult to move once they're well rooted.
Alright, so you've figured out location, size and light conditions.  Perfect. So what type of grass shall we plant? Here is a list of my favorites, these are all good options for our climate and are all available in the garden center right now: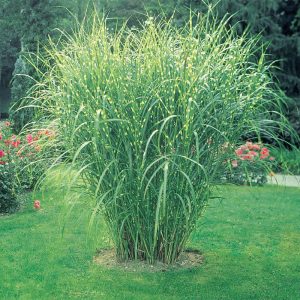 Zebra Grass
Bright green variegated foliage.  This grass will can grow over 7 feet tall and spread up to 5 feet.  This makes for a perfect wind blocker or a natural fence if you don't want to see what's next door! It is also deer, rabbit and drought resistant.  Well drained soil is helpful. Low maintenance.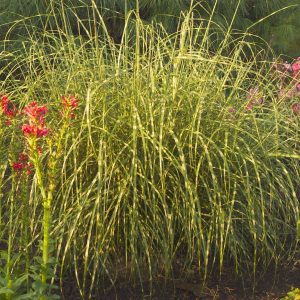 Little Zebra Grass
Same is its big brother although this one will only grow to 4 feet tall.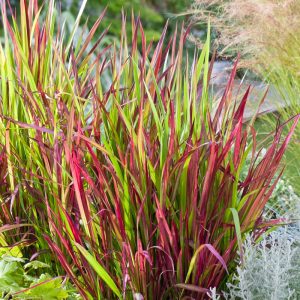 Red Baron Grass
Also known as Japanese Blood grass, this beauty turns a brilliant crimson color and is deer and drought resistant.  Well drained soil is preferred. It will grow up to 2 feet and spread up to 2 feet as well. Low maintenance.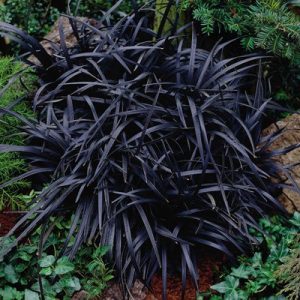 This striking grass really stands out amongst lighter colors.  It will only grow to about 12 inches and spread the same. Deer, rabbit and drought resistant.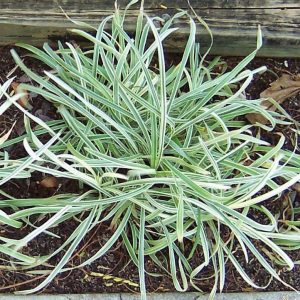 This beautiful grass has a very vibrant green foliage and looks great in any landscaping arrangement.  It will grow and spread up to about 15 inches. Looks great combined with Hostas or daisies. Deer resistant.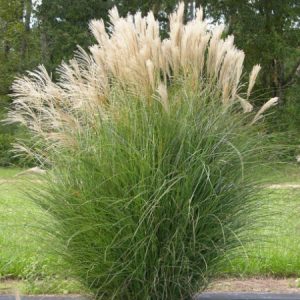 This beauty has fine textured blades that are silver-green.  It can grow quite massive, over 6 feet tall and spread up to 5 feet.  Makes a great natural screen.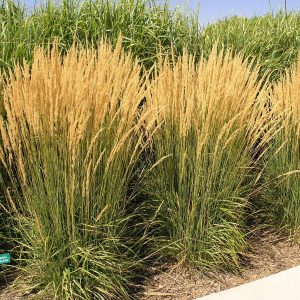 Karl Foerster Feather Reed Grass
This ornamental grass is a real showstopper!  It offers very dramatic colors as the feathery stalks start our red-brown and then turn golden in the fall.  Adding to the dramatic colors is the stunning vertical stalks which can grow up to 6 feet tall (while the foliage tops out at 2 feet).  This grass grows fast, so it will not take long to reach maturity. It is deer resistant and very easy to care for. If you have a full sun location the colors this grass provides will amaze you!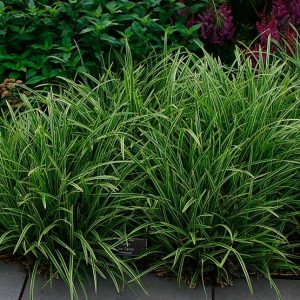 Ice Dance Japanese Sedge
For our pond people!  This grass is a great choice to grow around your pond.  This grass is not large, maxing out around 12 inches, however it will spread (underground stems) to eventually produce a beautiful dense ground cover and helps with erosion control.  This grass is a slow grower and needs regular watering.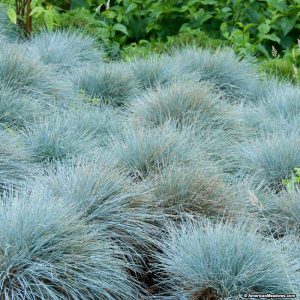 Elijah's Blue Fescue
This is another grass with striking color.  It only grows to about 12 inches tall and spreads about the same, but it stands out so much because of the color that it really draws attention.  Deer and drought resistant and does well in dry or rocky soil.
Cindy's Garden Center has all of these and several more perennial ornamental grasses currently in stock.  Come on down and ask our friendly and knowledgeable staff any questions you may have, and they'll get you started on your very own easy to care for ornamental grasses.