Nothing says summer like local fresh produce.  Being able to take a ride out to the county to visit all the local roadside markets makes it so enjoyable to live in Essex County.  With all the fresh fruit available to us there is only one thing we all need to make our lives easier in the kitchen so we can enjoy these fruits the minute we get back from our daily road trips out to the markets.  I am going to share with you some great gadgets along with recipes to help make your fruit prep easy and mess free.
Cherry Pitter
There is no need to bite down on hard cherry pits anymore!  This handy gadget is super easy to use and clean.  All you need to do is insert a clean sweet cherry into the nook, pull the trigger and watch the pit pop right out.  Not only is this fun your kids will love to help you with this.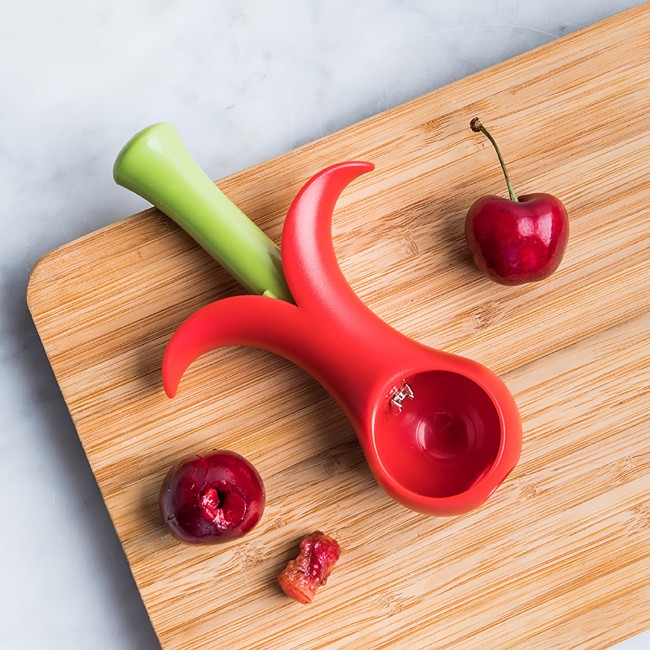 Bordeaux Cherry Balsamic Mixed Green Salad
Salad
5-6 cups mixed greens/lettuce (5 ounces)
1 large pear or canned pears
1/2 tsp Woeber's Dijon Mustard
1/2 cup pitted and halved cherries (can used dried cherries also)
3/4 cup red grapes
1/2 cup sliced almonds
1/3 cup feta cheese
Optional: add some sliced strawberries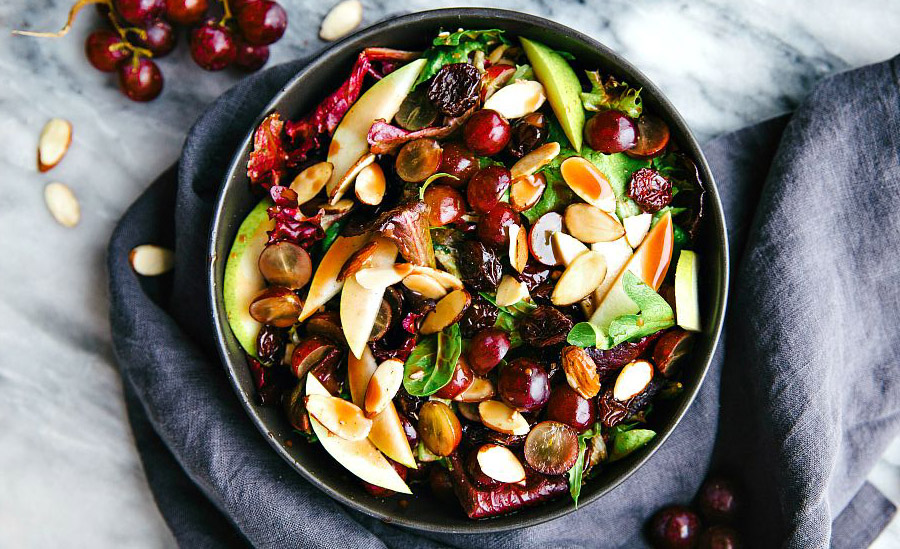 Directions
Whisk oil, balsamic and mustard in a bowl and set aside
For the salad: thinly slice a large pear. Alternatively use canned pears
Slice the red grapes in half (or leave whole).
If desired, toast the almonds: add the sliced almonds in a single layer to a completely dry skillet (don't add any oil) and place on medium-high heat (don't want it too hot or they will burn). Stir the almonds every 15 seconds for about 1-2 minutes or until the color slightly darkens and they start to smell good. Watch these carefully as they can go from perfectly toasted to burnt quickly!
Add the sliced pears, sliced grapes, almonds, and dried or fresh cherries to the mixed greens lettuce.
Toss with the dressing and add feta cheese.
The quantities of ingredients are a general guideline. Add more or less of your favorite salad fixings depending on your personal preference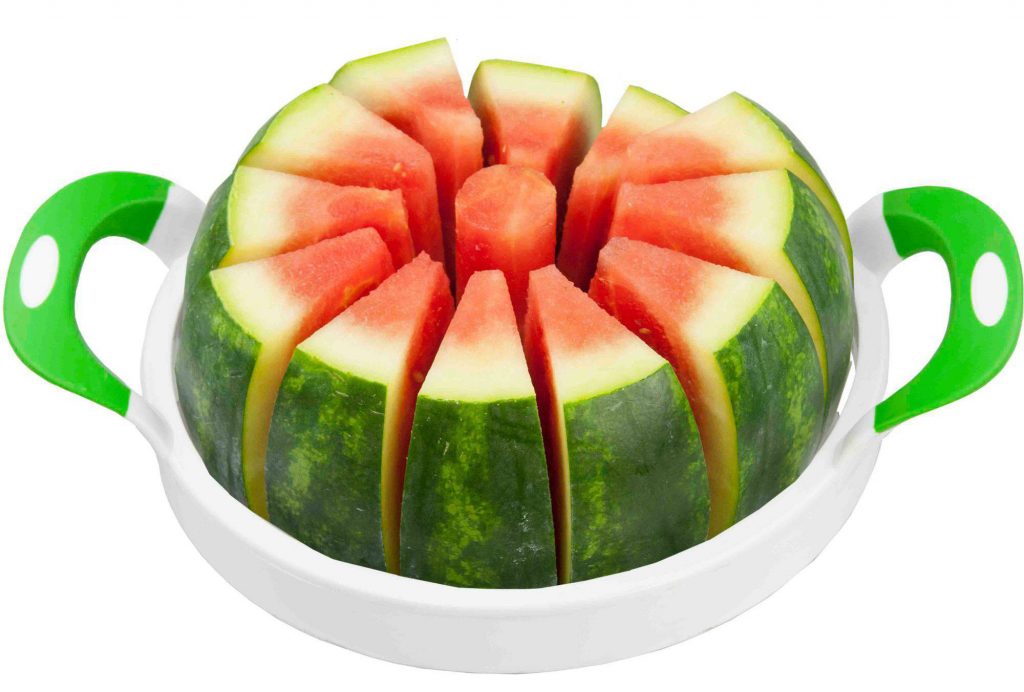 Watermelon Slicer
This gadget will save you lots of time in the kitchen.  All you need to do is place your hands on the grip handles and place on top of the watermelon and push down.  This slicer will give you 12 perfect slices every time.  Less mess, easy to eat and quick.  Below is a very simple and unique salsa that I make with watermelon.
Watermelon Fire & Ice Salsa
Ingredients
3 cups chopped watermelon
1/2 cup chopped green bell pepper
2 tbsp chopped fresh cilantro
1 tbsp chopped green onions
1 tbsp chopped jalapeno pepper
1/2 tsp garlic salt
Directions
 Mix all ingredients together and serve immediately.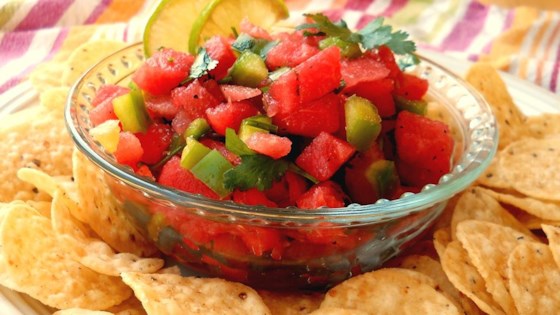 Pineapple Corer
This handy gadget makes cutting pineapple fun.  It peels, cores and slices an entire pineapple in seconds.  You can cut the entire pineapple of just a slice at a time and they will be perfect each and every time you use it.  I recently made this dish at home the other night and everyone loved it.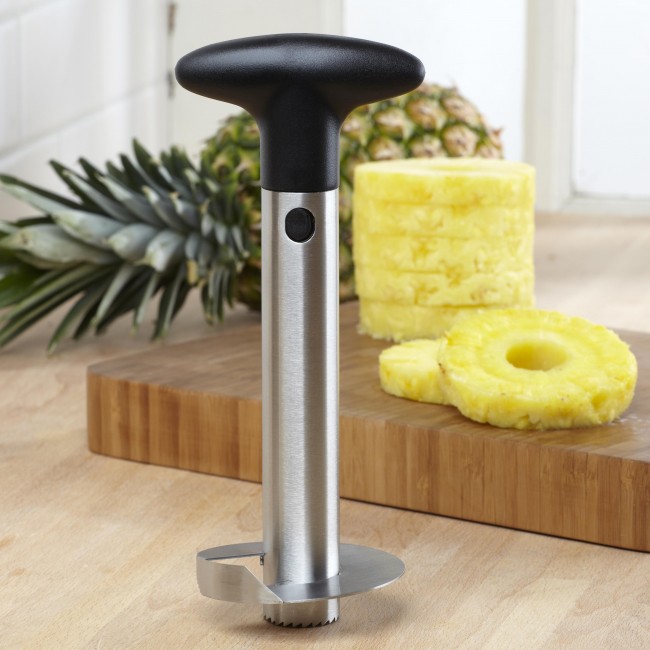 Chocolate Dipped Pineapple Slices w/ Toasted Coconut
Ingredients
1 fresh pineapple peeled & cored
1 12 oz. bar milk chocolate (I love Dairy Milk! If you like dark chocolate I recommend Ghirardelli Dark Chocolate)
1 cup coconut flakes toasted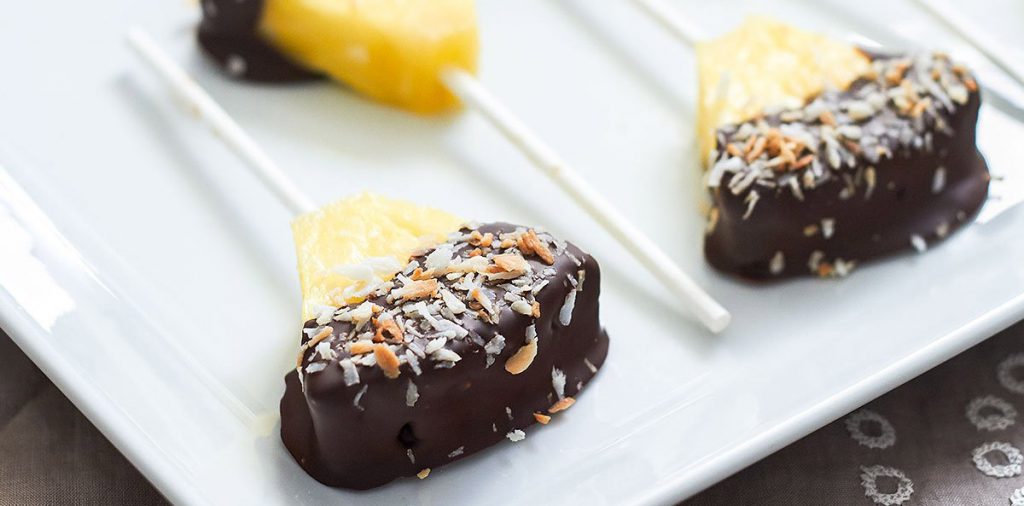 Directions
 Line a large baking sheet with parchment paper and set aside.
Slice pineapple into large circles. If desired, slice circles in half again.
Place Dairy Milk or Ghirardelli chocolate in microwave safe bowl. Microwave at half power or defrost setting for 30 seconds. Stir thoroughly. Continue to microwave in 15 second intervals and stir until smooth.,
Dip pieces of pineapple in melted chocolate and place on prepared tray.
Sprinkle with toasted coconut. Let fruit sit on tray until the chocolate hardens. You can also chill in fridge.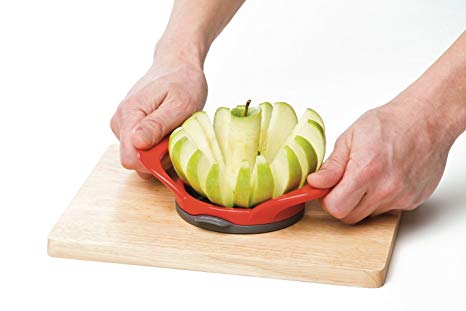 Apple Corer
This stainless steel gadget easily slices and cores your apples in seconds.
Sliced Cinnamon Green Apple Balsamic Apples
Ingredients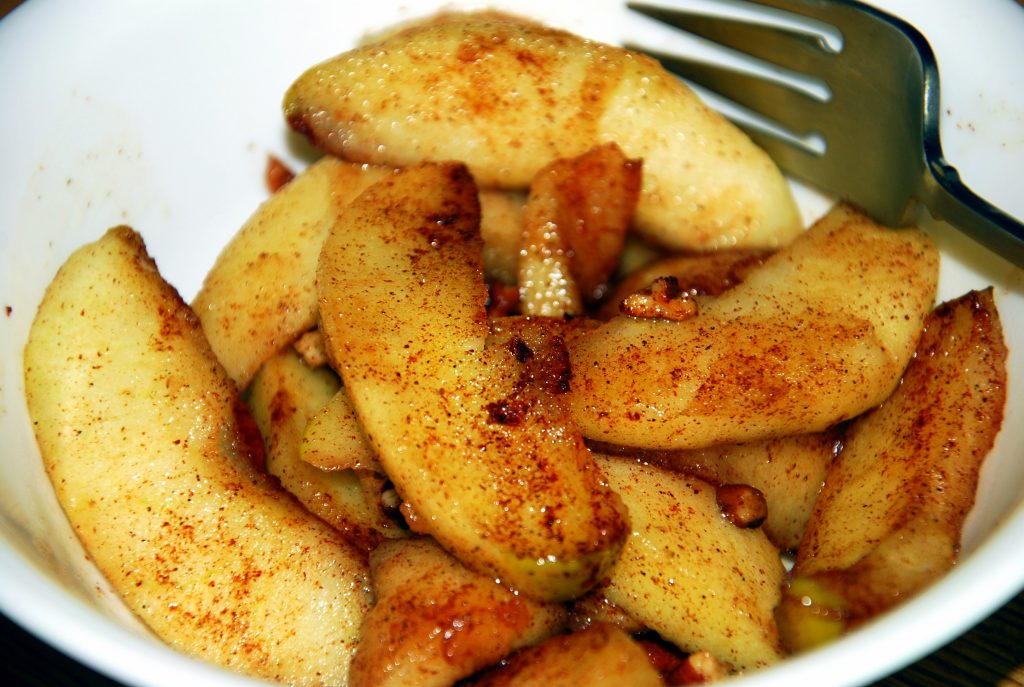 Directions
 Heat a skillet on medium-low heat.
Peel and chop apples, then toss with cinnamon. You can also add a pinch of salt to bring out the sweetness if you would like.
Add to skillet and let them caramelize for a full 20-25 minutes, stirring occasionally.
Once soft and caramelized, add balsamic and stir.
Serve hot with ice cream, yogurt, oatmeal or as a side dish.
Mango Splitter
The Mango Splitter not only slices the fruit in half but it also removes the seeds.  The blades are made from stainless steel and will cut even the ripest mangos.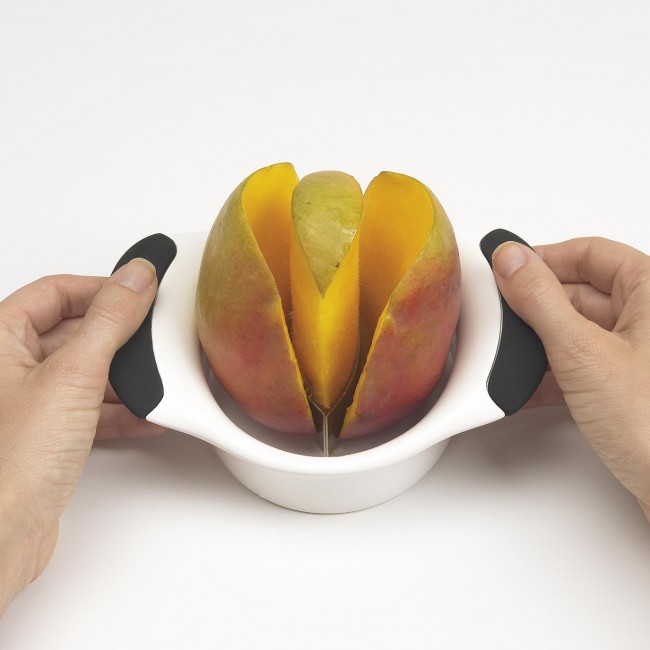 Mango Granita
Ingredients
2 lbs ripe mangoes, chopped and seeds removed
1/3 cup white sugar, or to taste
1 cup water
1/2 tsp lemon juice (optional)
1/4 tsp Cindy's Mango Balsamic Vinegar
1 small pinch of salt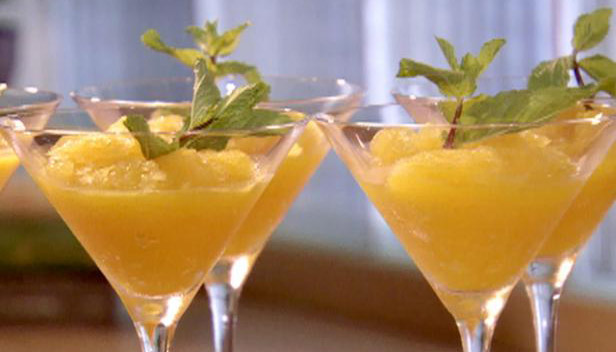 Directions
Rinse Mango with cold water; let drain. Transfer cut Mango to a blender and add sugar, water, lemon juice, balsamic vinegar, and salt.
Pulse several times to get the mixture moving, then blend until smooth, about 1 minute. Pour into a large baking dish. Puree should only be about 3/8 inch deep in the dish.
Place dish uncovered in the freezer until mixture barely begins to freeze around the edges, about 45 minutes. Mixture will still be slushy in the center.
Lightly stir the crystals from the edge of the granita mixture into the center, using a fork, and mix thoroughly. Close freezer and chill until granita is nearly frozen, 30 to 40 more minutes. Mix lightly with a fork as before, scraping the crystals loose. Repeat freezing and stirring with the fork 3 to 4 times until the granita is light, crystals are separate, and granita looks dry and fluffy.
Portion granita into small serving bowls to serve or keep in glass dish and take as needed.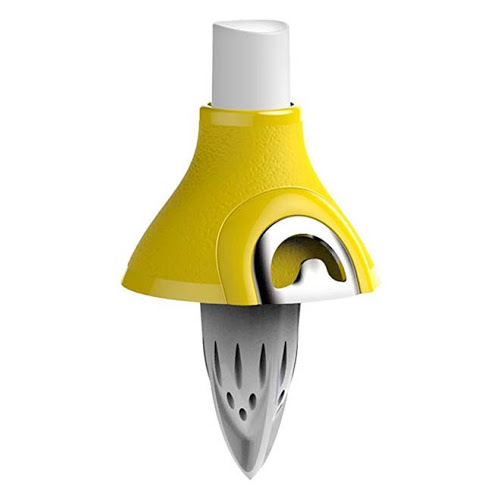 Citrus Spritzer
This is a must have gadget.  All you need to do is cut the top of the lemon off and screw the spritzer nozzle into the tip and the fruit is ready to be used.  Not only can you spritz your salads, cocktails, mocktails, but it can also be used as a room deodorizer.  This is a great room spray for people that are very sensitive to harsh perfumes and smells.  Not only can you use it in lemons but try it in oranges, grapefruits, limes, clementines etc.
Apple Cranberry Salad
Ingredients
Fresh greens or spinach
Cranberries
Slivered apples
Sugared pecans
Crumbled bacon
Goat cheese
1 tbsp Cindy's 25 Star White Balsamic
Directions
Mix and serve immediately.
I haven't put any quantities as I usually make this salad for myself and just do it by eye. But the dressing I mix in a separate mixing bowl and drizzle over the top of the salad once it is put together. Again, the dressing may be adjusted due to your taste.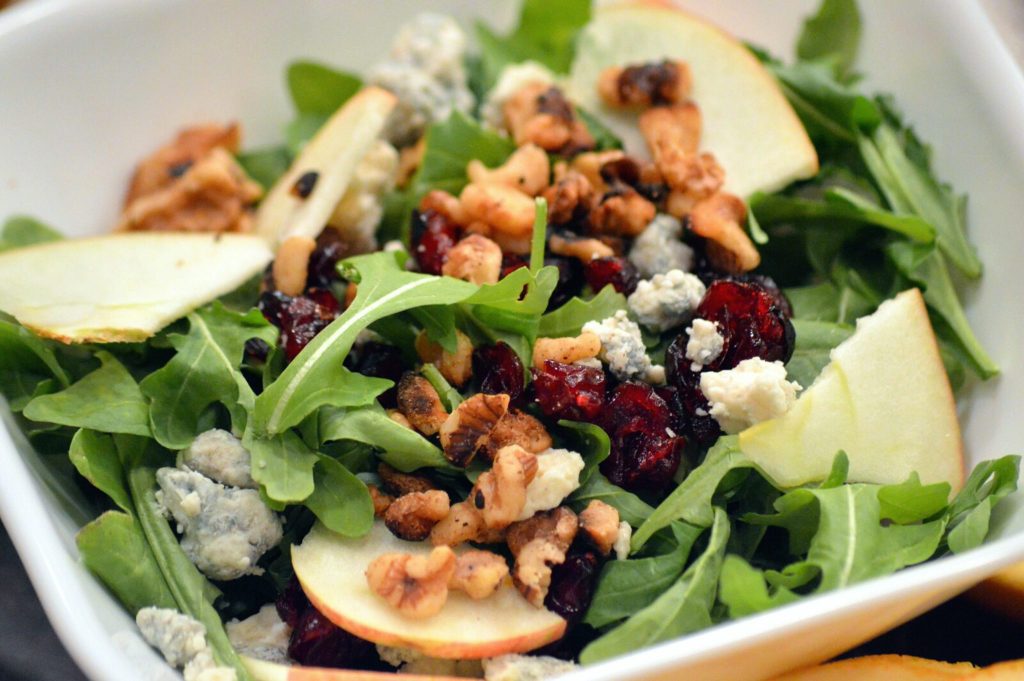 I wish you all a safe and happy summer and happy cooking!!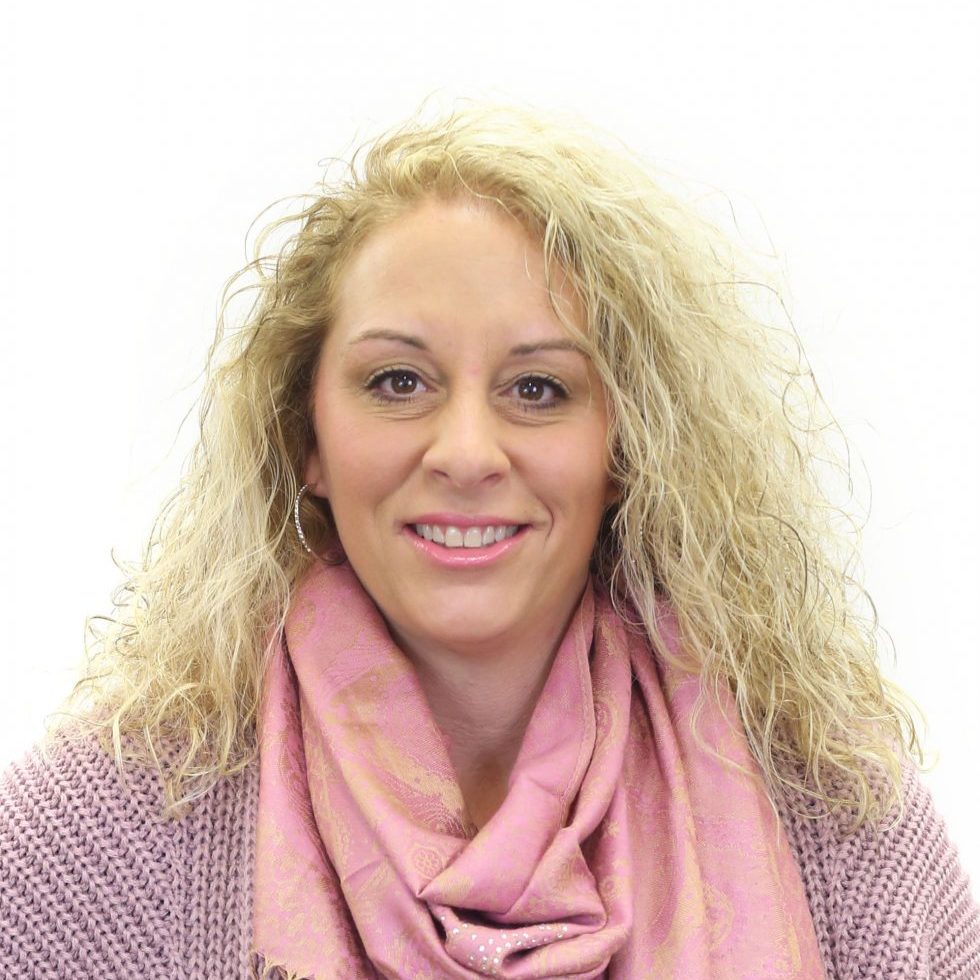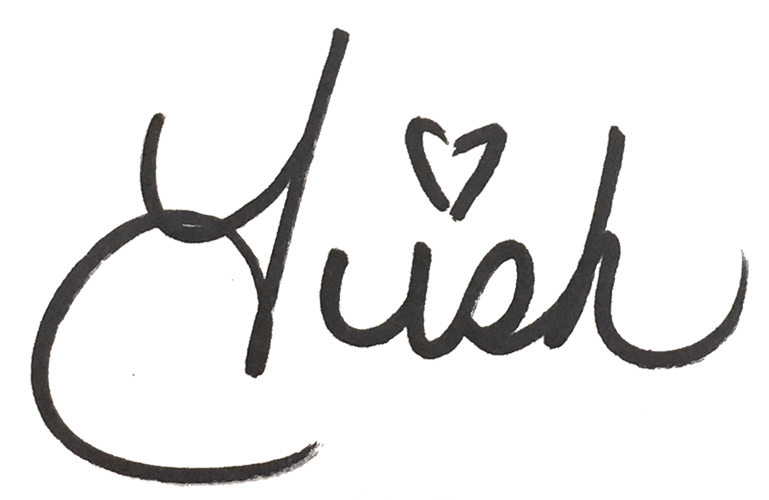 Buyer/Owner