With Halloween behind us it's time to kick those pumpkins to the curb! November is here and now is the time to get your front entrance looking fabulous for the holidays! There is something therapeutic about working with fresh greens. It's the fresh smell, the texture, and the feeling of pride when you create something beautiful yourself. In this blog I will walk you through each step of my process and at the end of this blog is a video to see how I created this fresh winter planter.
A few tips: When working with greens, pine in particular has sap and will stain your clothes, so be sure to wear your grubby gear. Also invest in a good pair of clippers to cut your branches. I highly recommend working with gardening gloves because spruce in particular is very picky and this will save your hands from getting poked and scratched.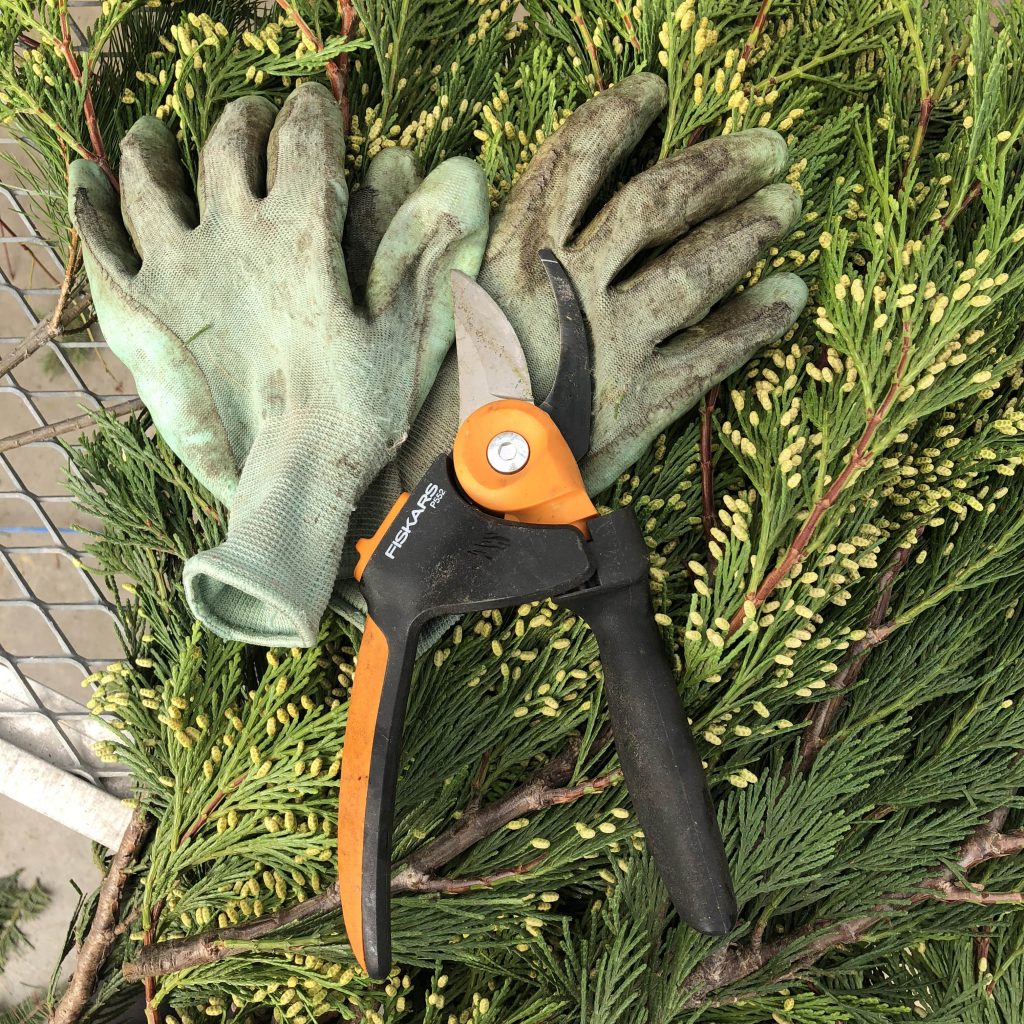 A Container. You can use any pot that can handle the outdoor elements. I am using a frost resistant pot. Get creative! Any type of container such as a crate, an old kids wagon, a coco lined window box, or hanging basket will do.  

Greens (I use spruce, pine, and incense cedar)

Branches (I used red dogwood, however you can use any type of branches such as curly willow, birch poles, or jay branches)

Soil or fresh floral foam

Pruners

Gloves

Decorations

Outdoor ribbon or mesh for a bow

Wire for your bow and to secure your decorations 
The first step is to fill your container with soil and water the soil. Wet soil will freeze and keep your greens in place. For small containers and arrangements you can use fresh floral foam, just make sure to wet it before use.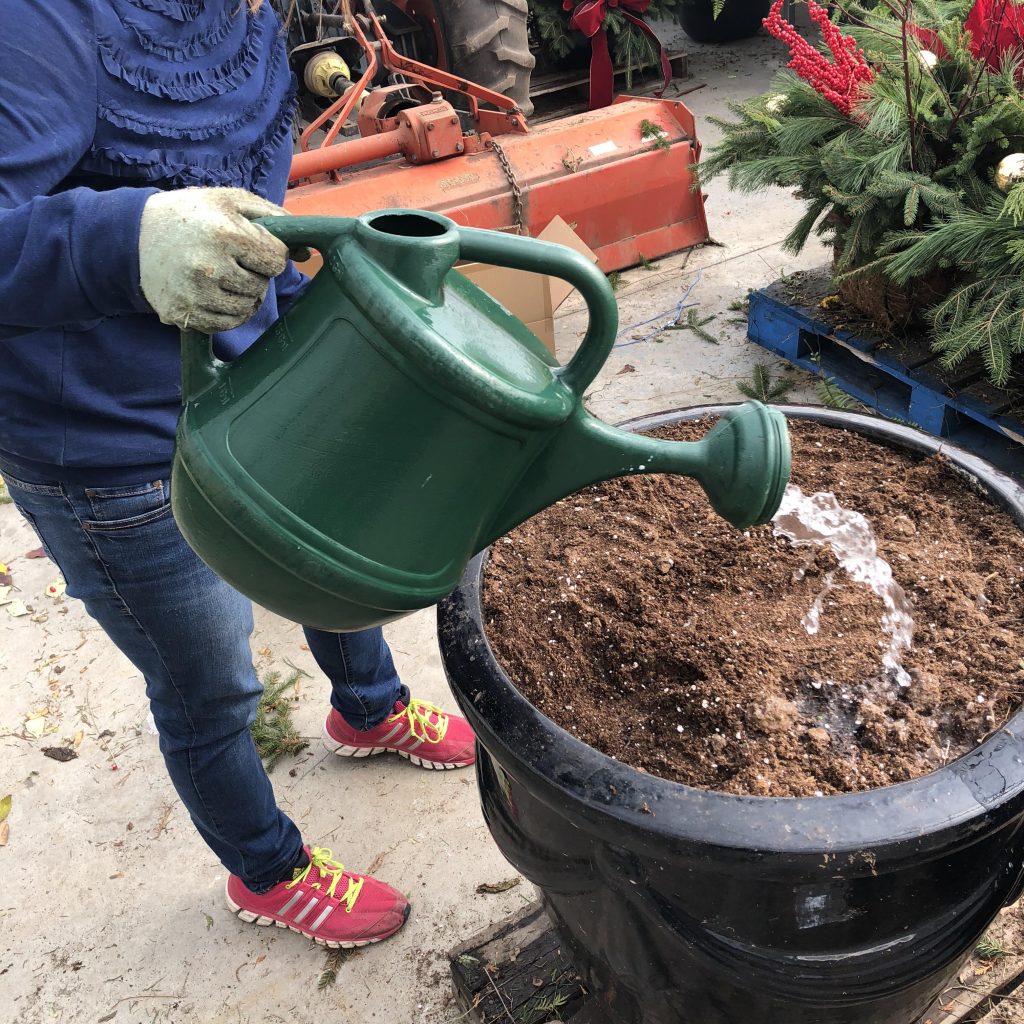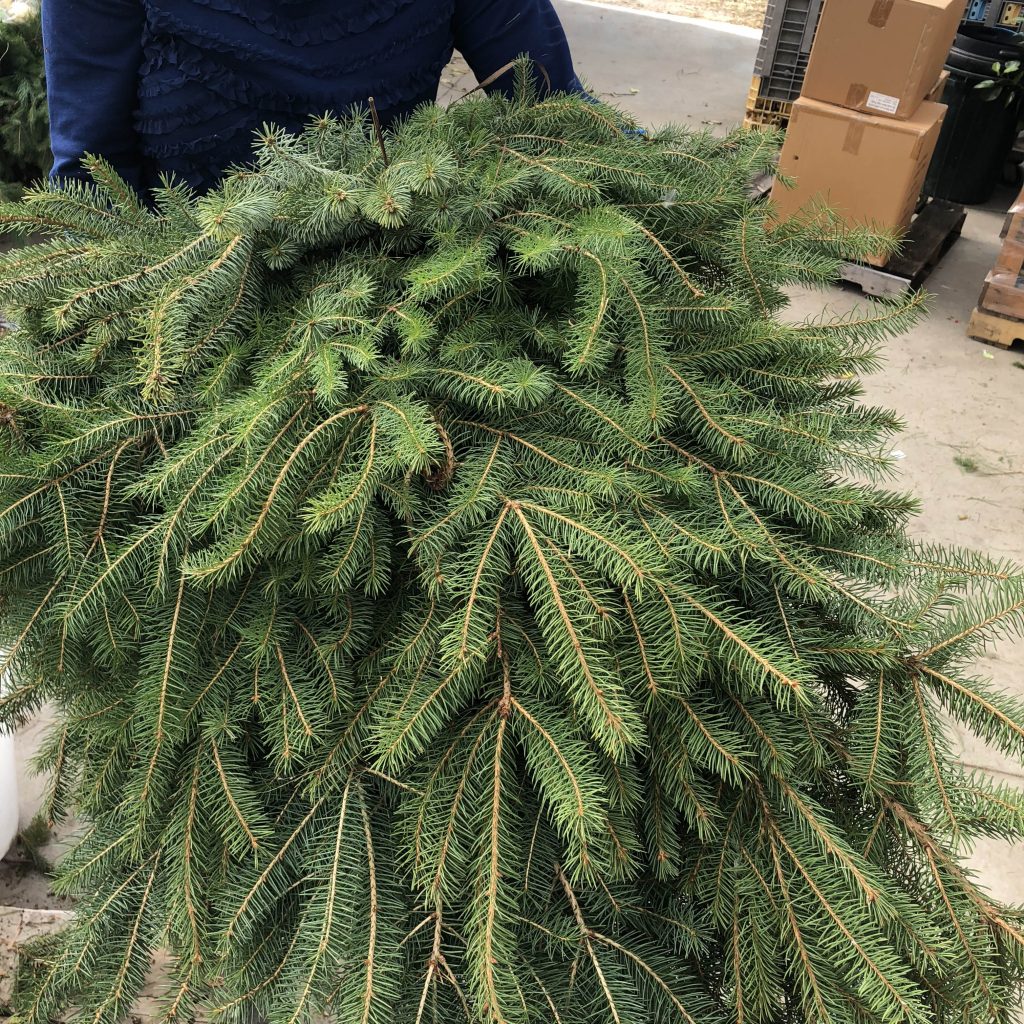 I like to start with spruce. I chose spruce first because it has bulk and creates a nice base in the planter. I have also used fir in the past which will do the same thing. I like both of these types of greens because they stay green throughout the winter (I have had many of my greenery planters up until mid March!) and both retain their needles.
I then make a fresh cut on the bottom of each branch and push the greens in all around the rim of the pot. I also like to put some of the taller branches in the back of the planter and then I fill in the planter with the remaining spruce. Your planter at this point should be looking pretty full.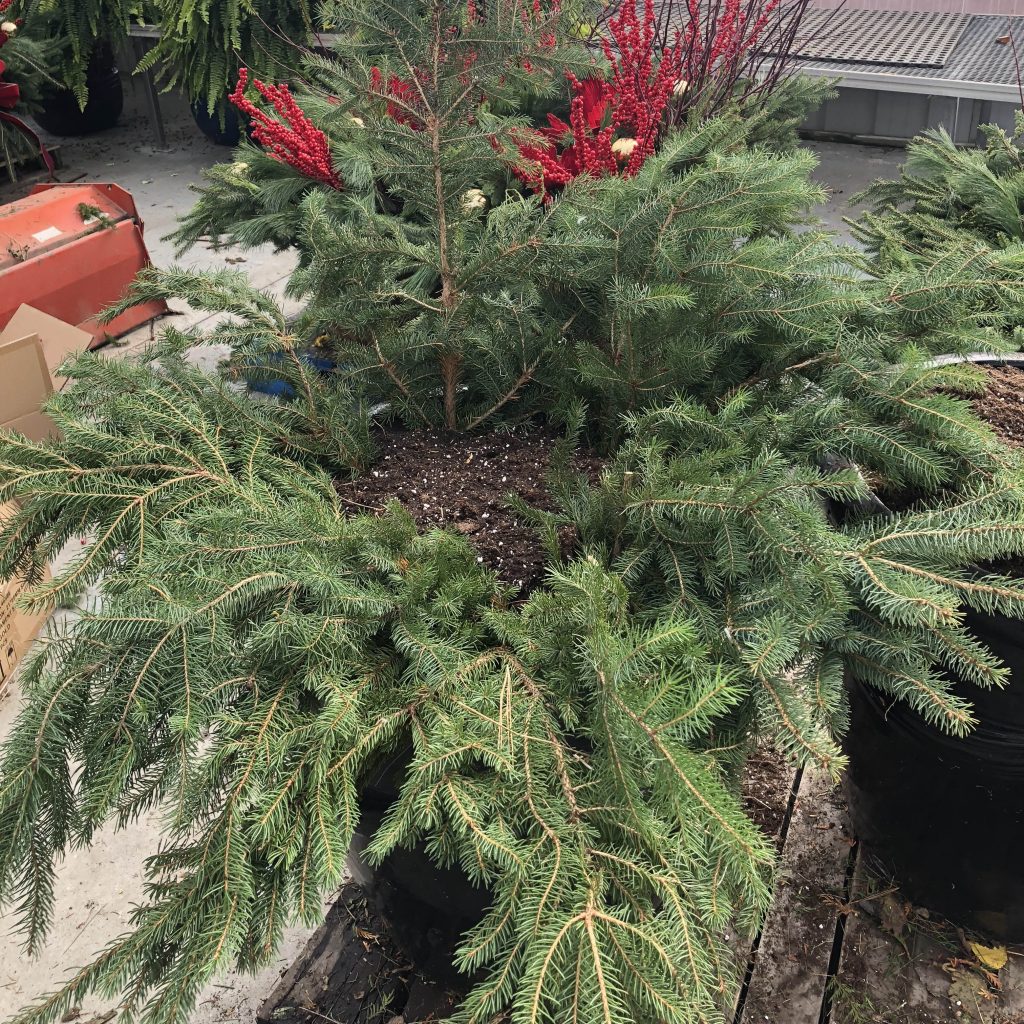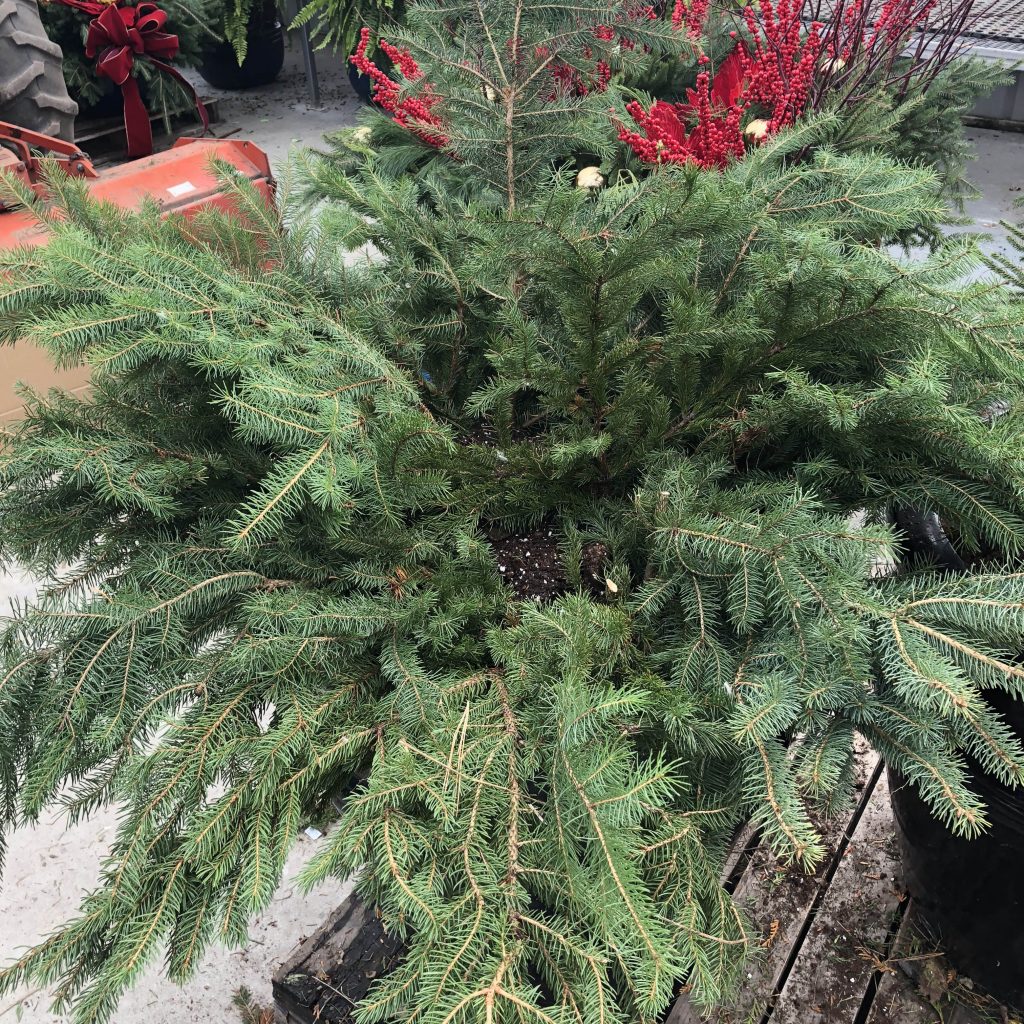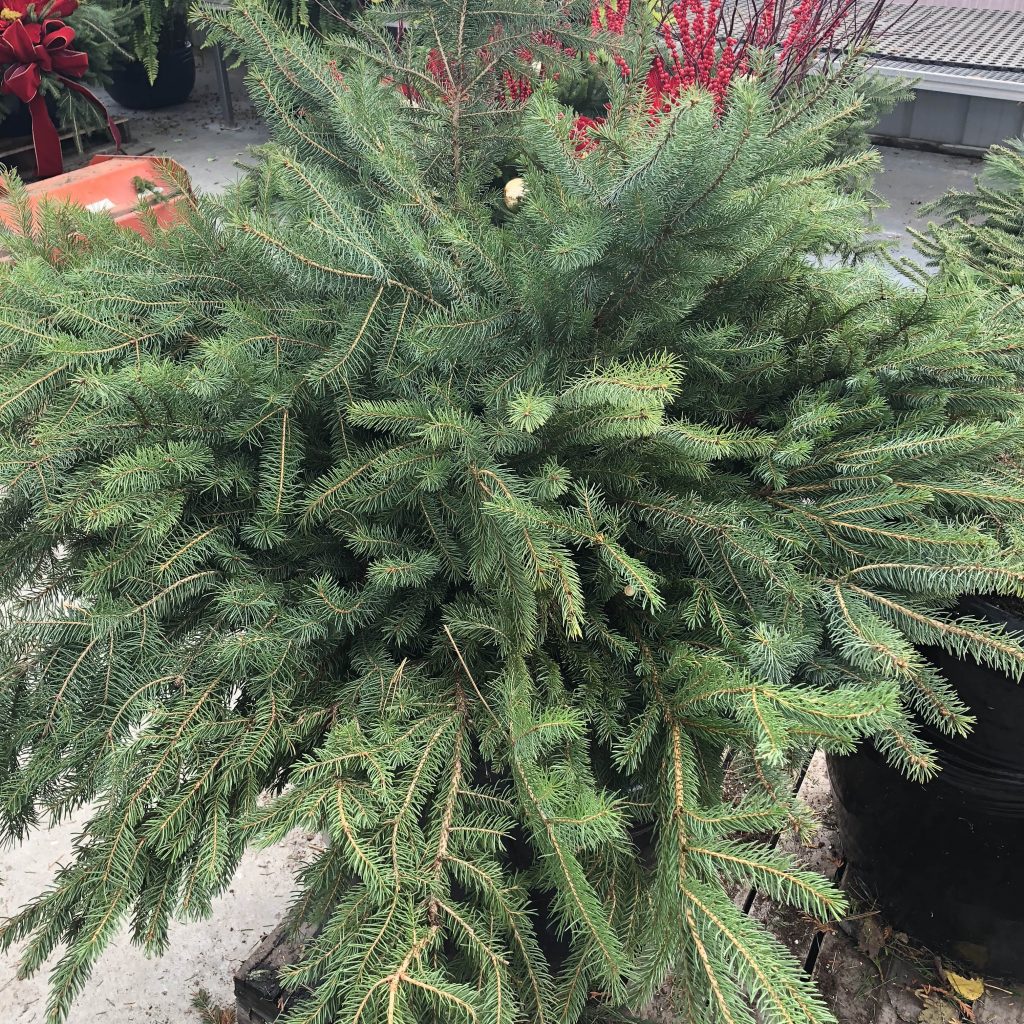 Next I add pine. I space it out and, usually in a larger planter such as the one I am working on here, I put in about 15 pieces. A handy tip about pine is that if you warm the branch in your hand you can manipulate it to bend more. I like to have the pine stick out a bit more than the spruce as it has a really cool look and dimension to it.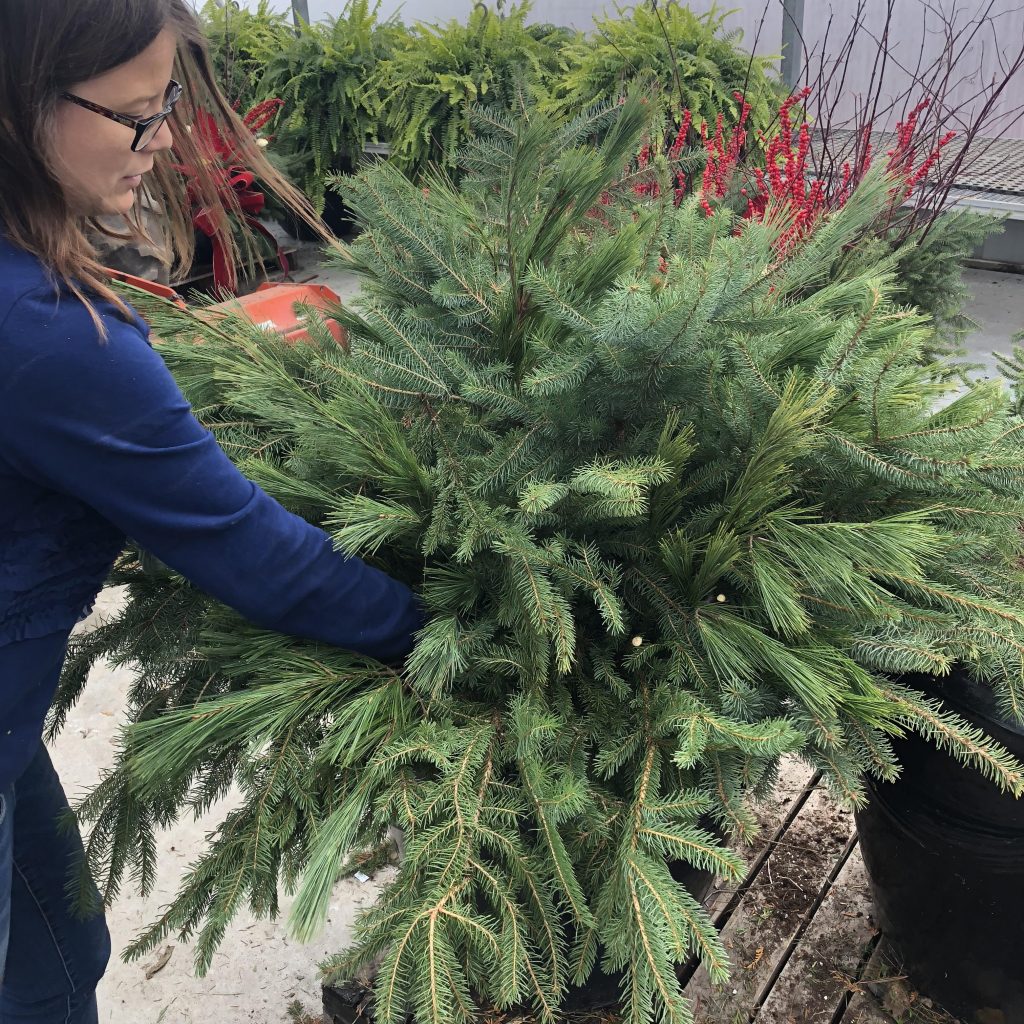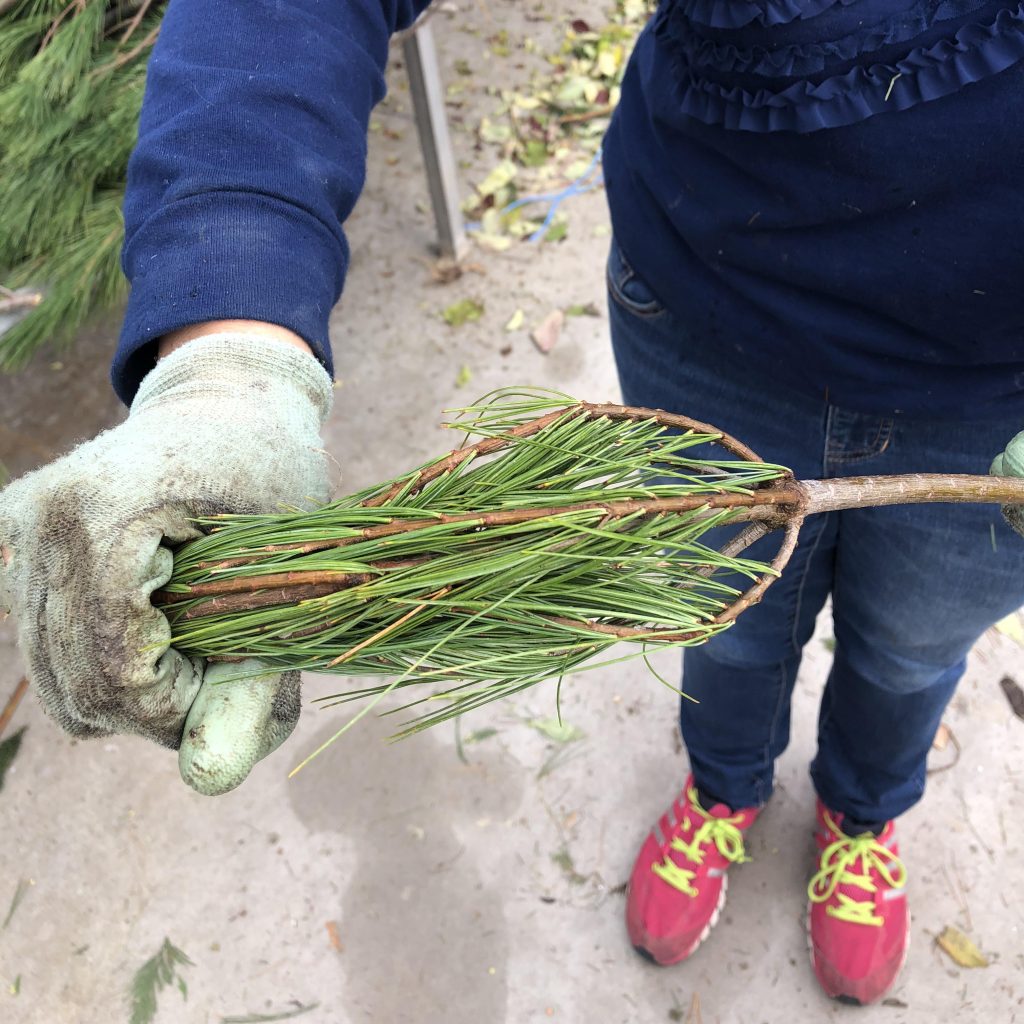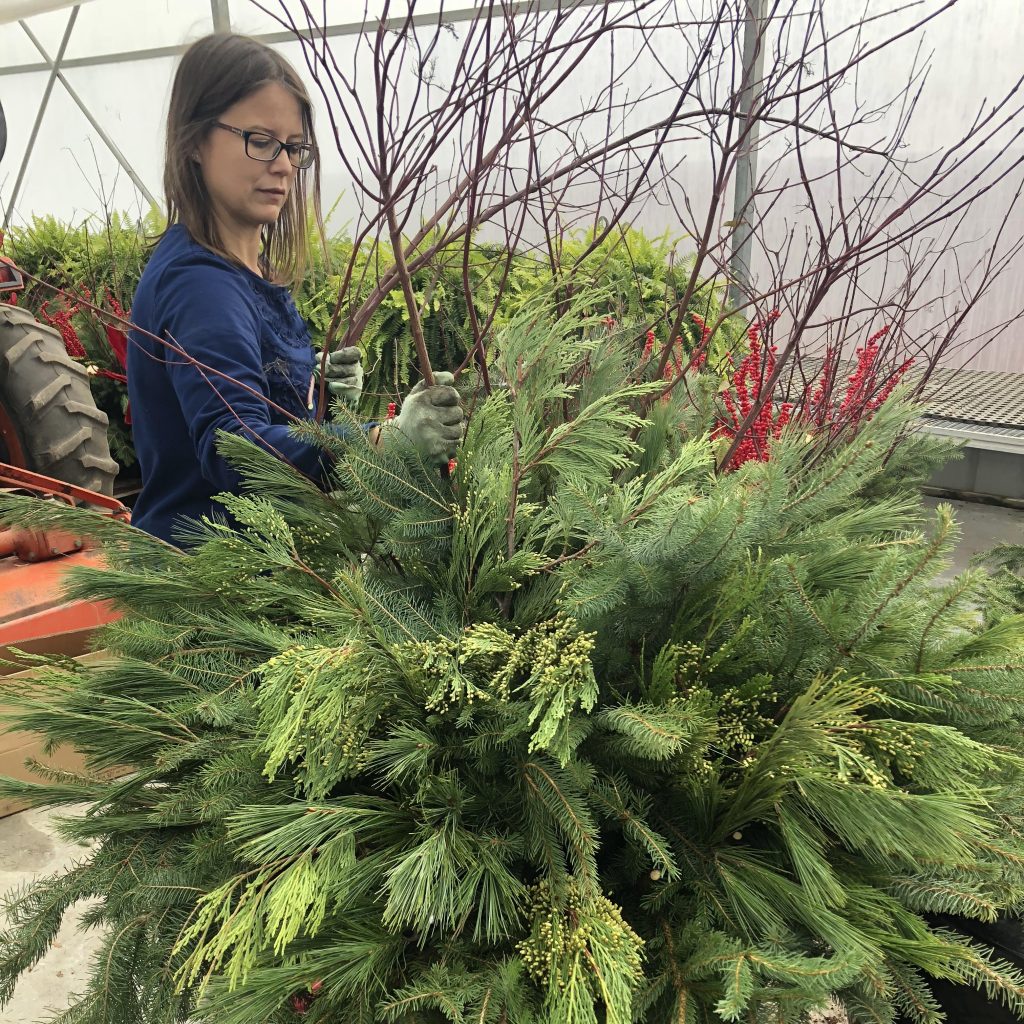 Now that the greens are in, I add some height to the arrangement. I love the deep red colour that red dogwood adds. I place this at the back of the arrangement. I like to put in enough to really make it pop. A tip is to wire a cute feather bird, such as a cardinal into the dogwood for a fun element. If your planter is being seen from all angles and is not up against the house, I recommend placing your dogwood in the middle of your planter. 
The last green I am putting in this planter is incense cedar. I only put in about three larger pieces.  This is simply a beautiful green that has white tips that look like tiny berries. It adds beautiful texture and colour to the arrangement. I find that incense cedar or western cedar tends to stay green longer than local cedar.
One thing I have learned over the years creating many greenery planters is to work with one element at a time. So for me, I find planters look better if you work with one type of green first, then the next green, and so on as opposed to putting a piece of spruce in, then pine, then spruce.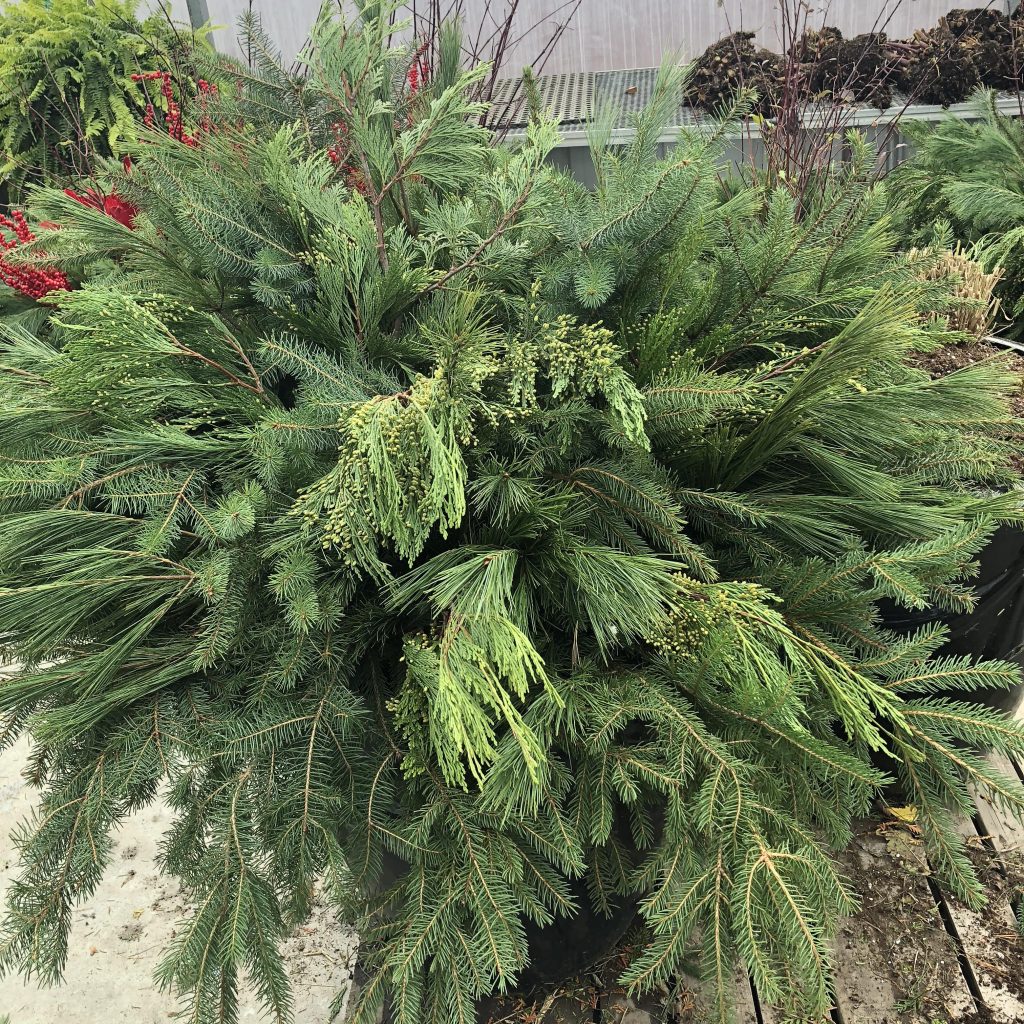 Now it's time to decorate! There are so many options from outdoor balls, to glittery picks, to fresh or faux berries (the ones I used in the picture are Cindy's outdoor weather proof winter berry), to birch poles and pine cones, to artificial flowers. The one I am creating here is traditional, so I stuck with a lot of red as it pops from a distance. I first add the XL faux poinsettia pick into the centre to be the focal point of the arrangement. Next I place two smaller poinsettias, one on each side. The poinsettia stems are long enough to stick directly in the soil. If you have a windy area you are placing your arrangement in, I highly recommend wiring all of your decorations into your arrangement to secure them.
Next I pop in some gold weather proof balls, faux winter berry(super realistic looking!) and wire in two super larger sugar cones.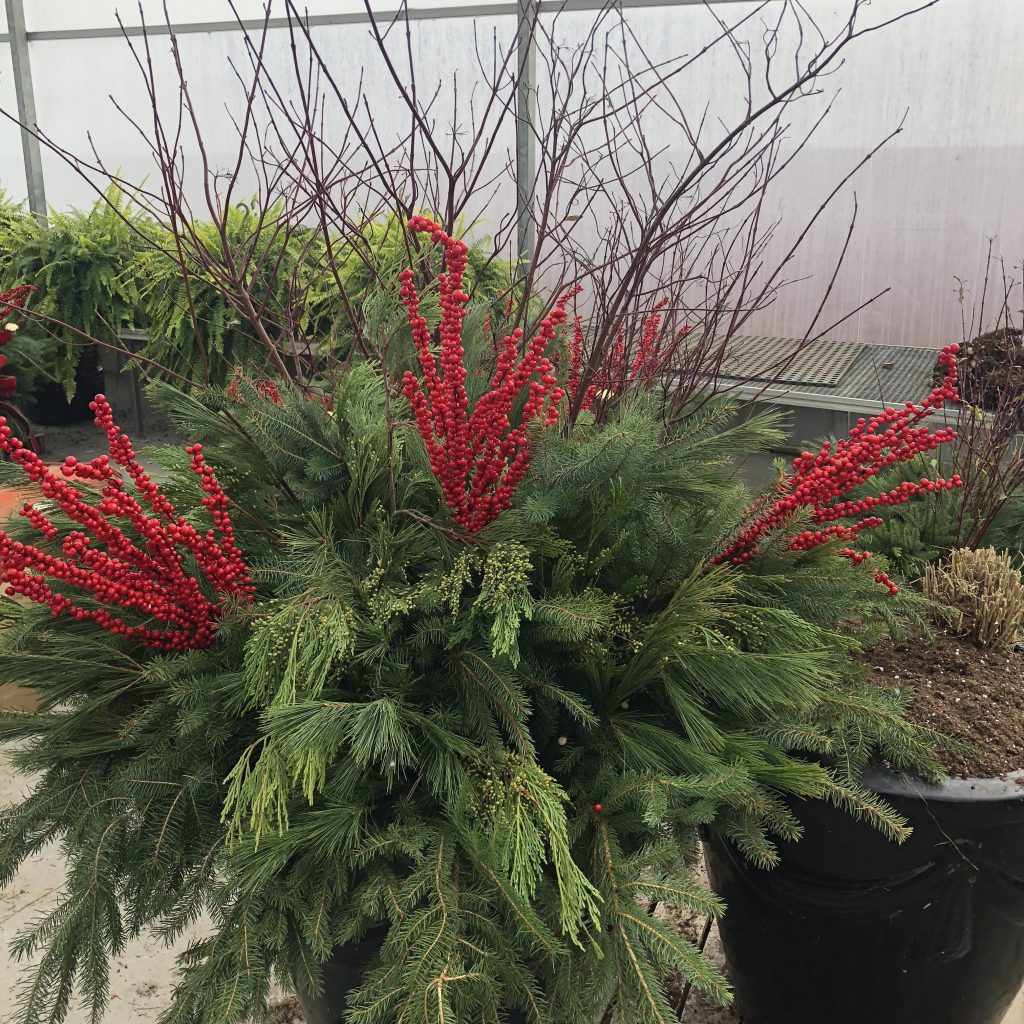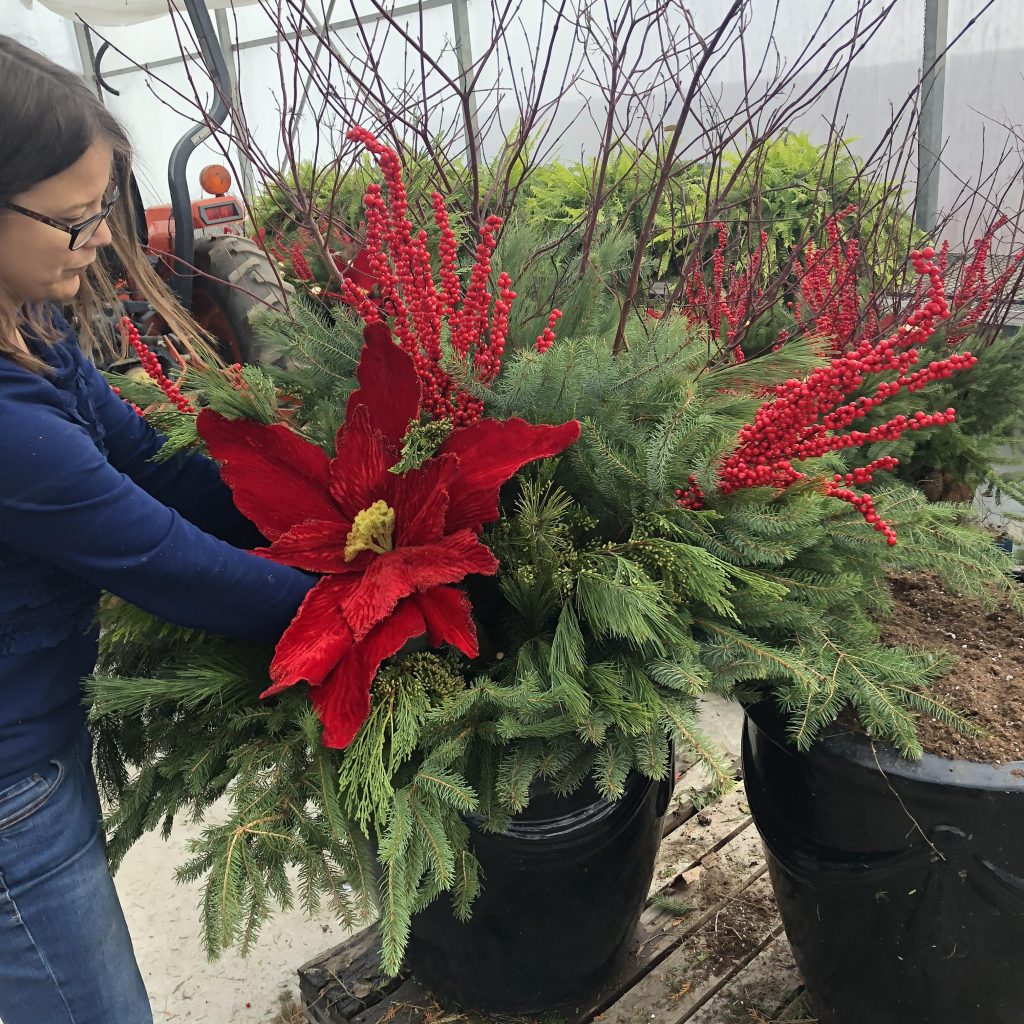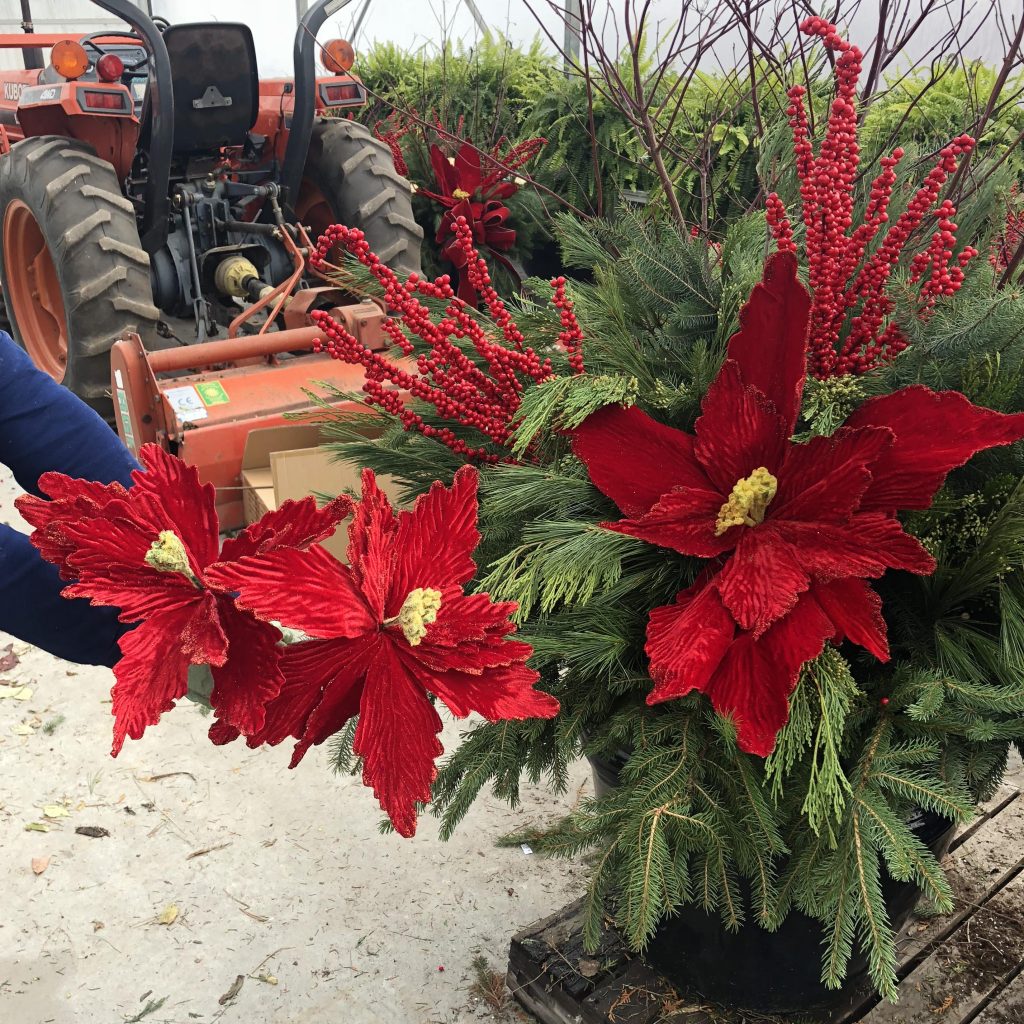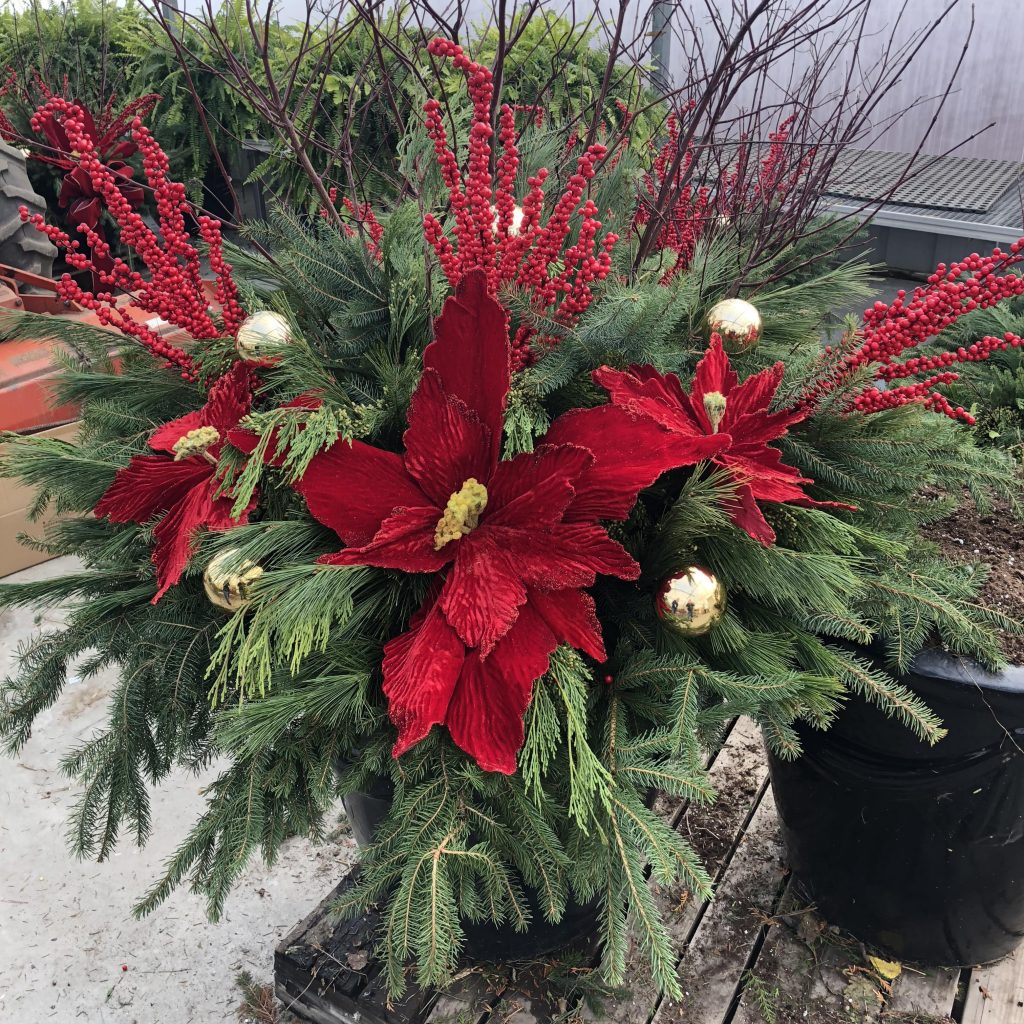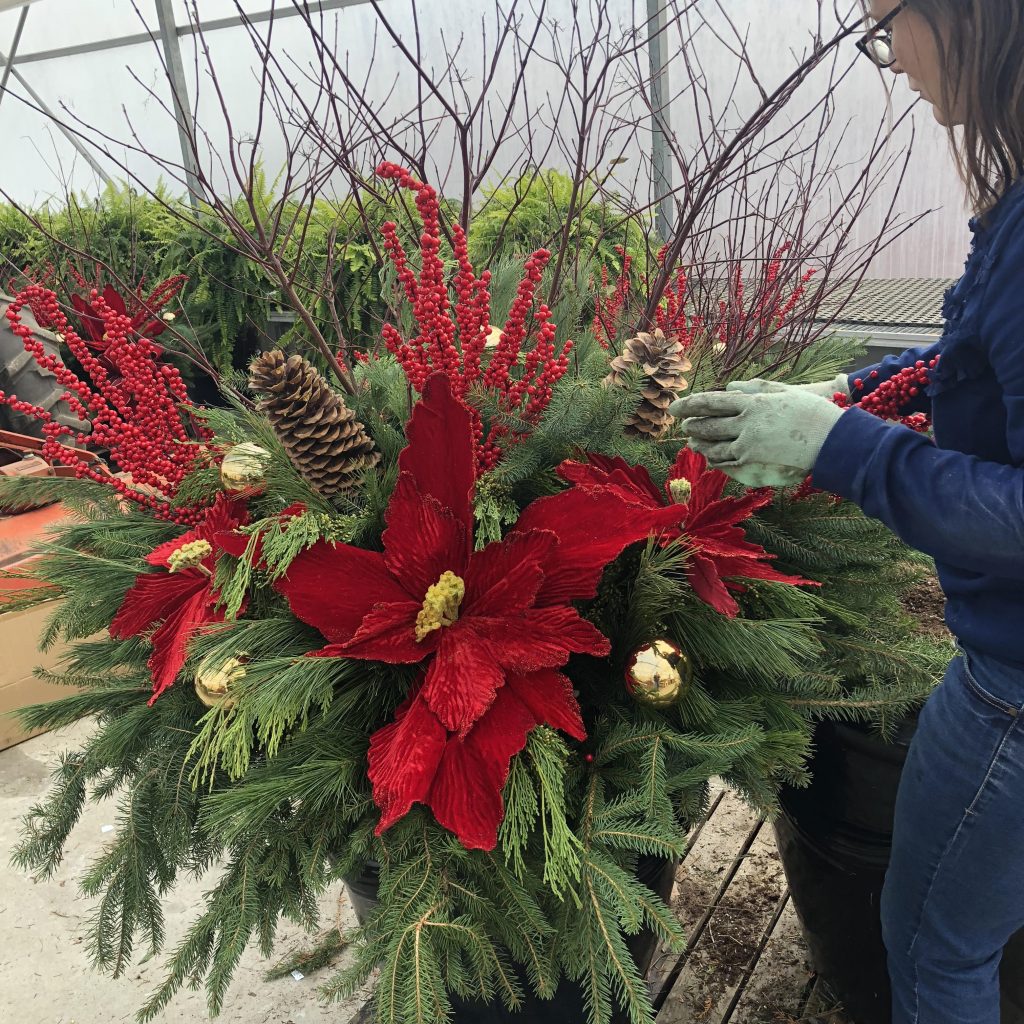 Lastly I add a festive outdoor bow, wiring it on to the spruce at the very front centre of the planter. I love the traditional red velvet and the ribbon I chose has a hint of gold accent as well which works with the gold balls in the arrangement. Typically when choosing your decorations, focus on one or two colours to make your planter really pop.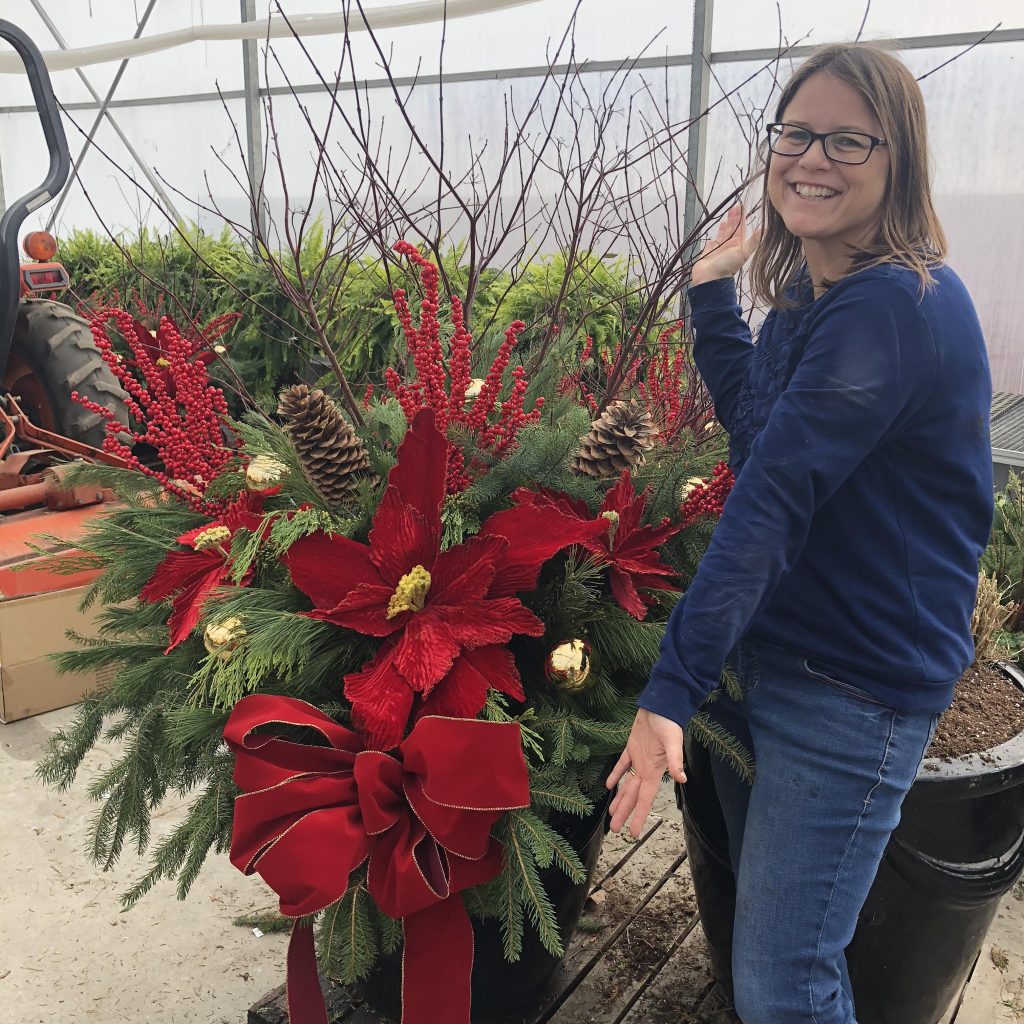 To keep your planter looking fresh and green and to last the season make sure to spray it with water frequently, especially when it is dry and sunny out.  
So get your gloves and greens, it's time to have some fun creating your own masterpiece!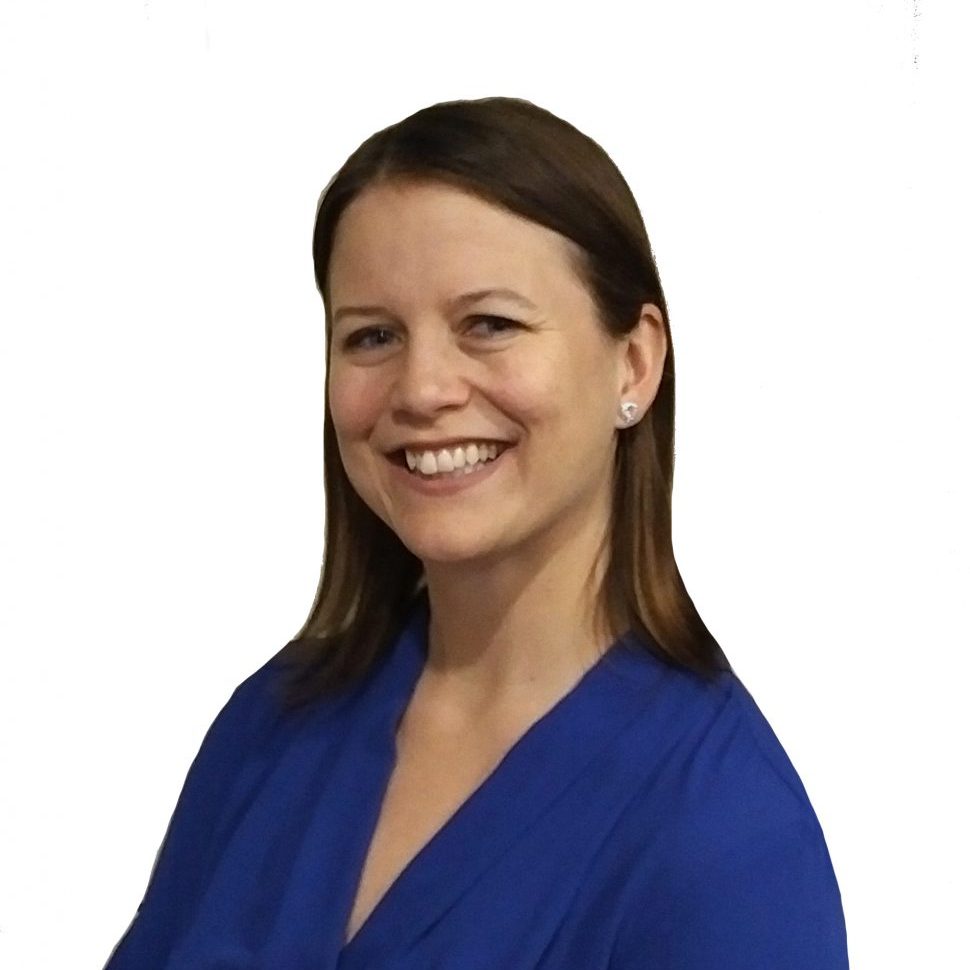 Buyer/Owner