The one flavor I never get sick of is the flavour of coconut.  It takes me back to the tropics with its sweet but velvety smooth taste.  This is why I am obsessed with  Coconut Balsamic vinegar as I can recreate a lot of healthy dishes with this wonderful sweet and tangy balsamic.
Not only do I drizzle this over fresh fruit, ice cream and yogurt but I use it as a salad dressing or marinade and love it with a Toasted Sesame Oil in my homemade stir fry.  I cannot forget about infusing my summer drinks with a splash of this balsamic in my cocktails and sparkling water mixed with any other fruity balsamic for a perfect and refreshing combination!  Here are a few ways that I love using my Cindy's Coconut White Balsamic Vinegar.
Directions
1. Combine all ingredients in a glass and stir
2. Top with ice and fresh lime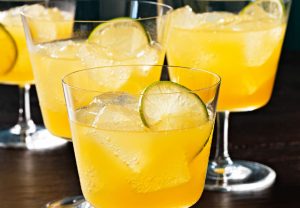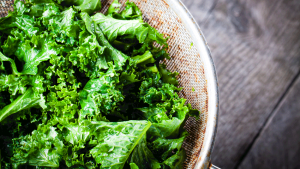 Directions
1. Preheat oven to 375 and line a baking sheet with parchment paper and set aside.
2. In a large bowl toss the kale leaves with Cindy's oil and balsamic and sea salt until coated.
3. Spread kale chips on baking sheet and roast in oven for 8-12 mins until crisp. Let cool and dig in.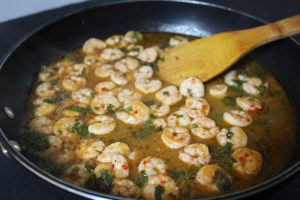 Directions
1. Whisk all ingredients together and add the shrimp and toss until completely coated with the exception of the toasted coconut.
2. Place in the fridge for an hour
3. Saute the shrimp in a fry pan for 3-4 mins and then flip.
4. Sprinkle each side with the tasted coconut until coated.
I also like this served over rice or on top of a fresh mixed green salad or just with fresh bread.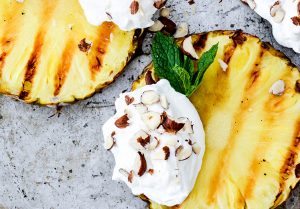 Directions
1.  In a pan place the balsamic's and 1 tsp of water and slowly heat the mixture until it coats the back of the spoon and thickens approx 8-10 mins.  This will thicken as it cools so be careful not to burn the balsamic and constantly stir the mixture.
2.  Brush the pineapple rings with Cindy's Persian Lime olive oil and place on grill oil side down until it makes grill marks and then flip.
3.  Coat the other side until there are grill marks and be sure not to let the pineapple sugars burn.
4.  Remove the pineapple off the grill and stack the pineapple and drizzle with Cindy's Chocolate and Coconut balsamic mixture. Enjoy!
Just remember here at Cindy's there is so many different ways to cook, marinate and flavor anything under the sun with our 64 flavors or EVOO and Balsamic Vinegars.  If you are in need of any other suggestions, myself or the staff at Cindy's Too are more than willing to share tips with you.  I look forward to seeing you all in our tasting bar.  Happy Grilling!