This spring my husband and I put in four small raised garden beds in our backyard specifically to grow herbs and veggies. We usually do a lot of container gardening with our herbs but decided to expand what we grew from last year. He does a lot of the cooking (I know, lucky me!) and uses a lot of fresh herbs, especially in the summer.  I have to say it has been so much fun going out and picking fresh veggies and herbs for dinner! There is something so satisfying about harvesting your own produce, not to mention the amazing freshness. A definite must for us is always basil which is the ultimate summer herb.  It's easy to grow and tastes great in so many dishes.
Growing basil is pretty easy. I planted mine outside, however basil can be planted in a pot inside anytime of the year as long as it has good light. A good tip I like to tell people who are planting a veggie garden is plant your basil plants in between your tomato plants. This is because basil is known as an insect repellent and will keep away mosquitoes, white fly and other pesky bugs that can attack your plants. I tried it myself this year and it really works. To keep your basil plant producing properly I recommend harvesting it in small amounts, usually no more than about one third of the plant at one time. Simply pinch a few leaves off of each stem and this will encourage the plant to fill out. Also be sure to pinch any flowers off of the tops of the plants as soon as you start to see them to help the plant produce more leaves.
This year I planted two varieties of basil; Genovese and Mammoth.  Taste wise I found them to be about the same, however I really liked the size of leaves that the Mammoth variety produced, which works great in salads, especially Caprese salad, yum!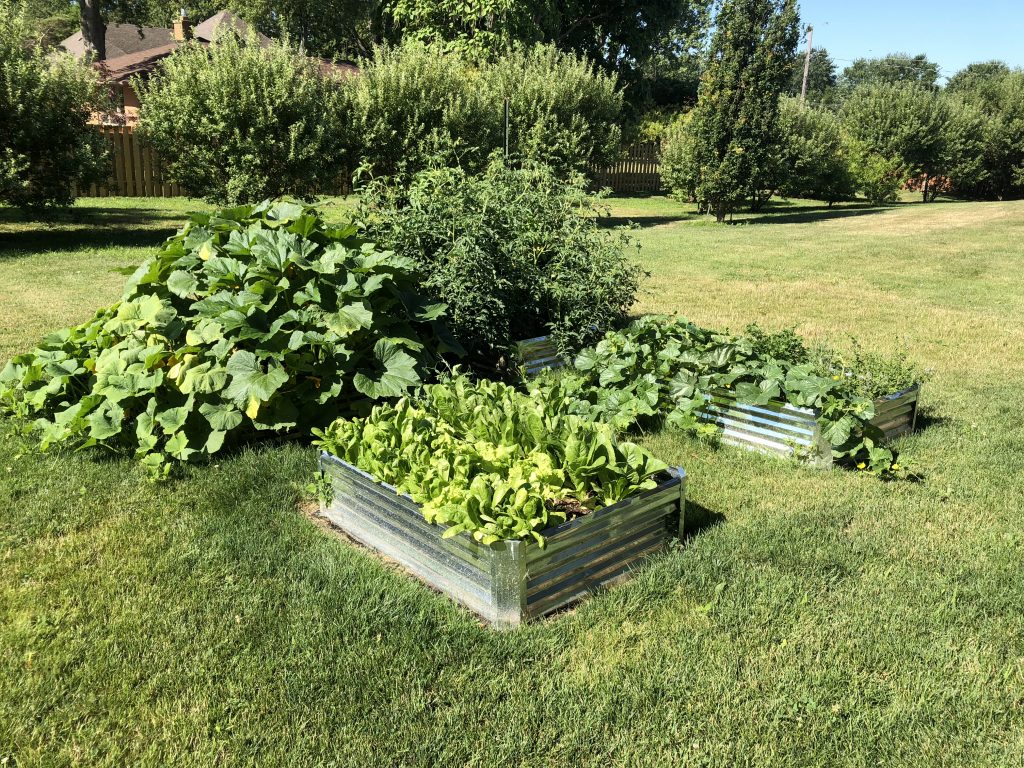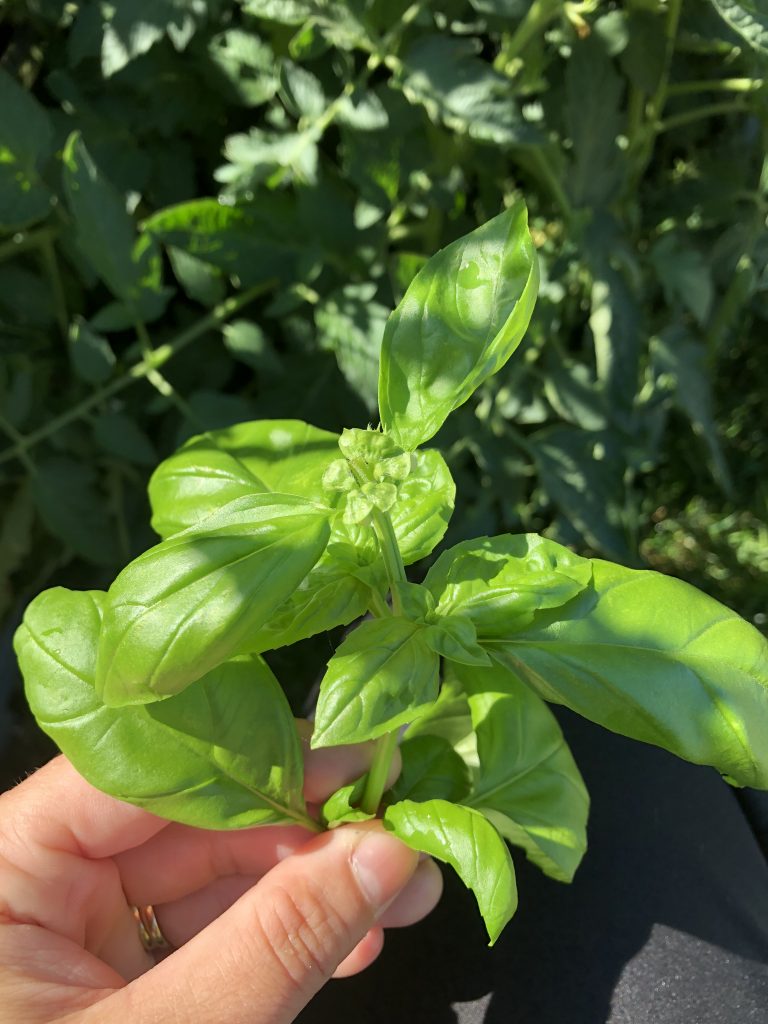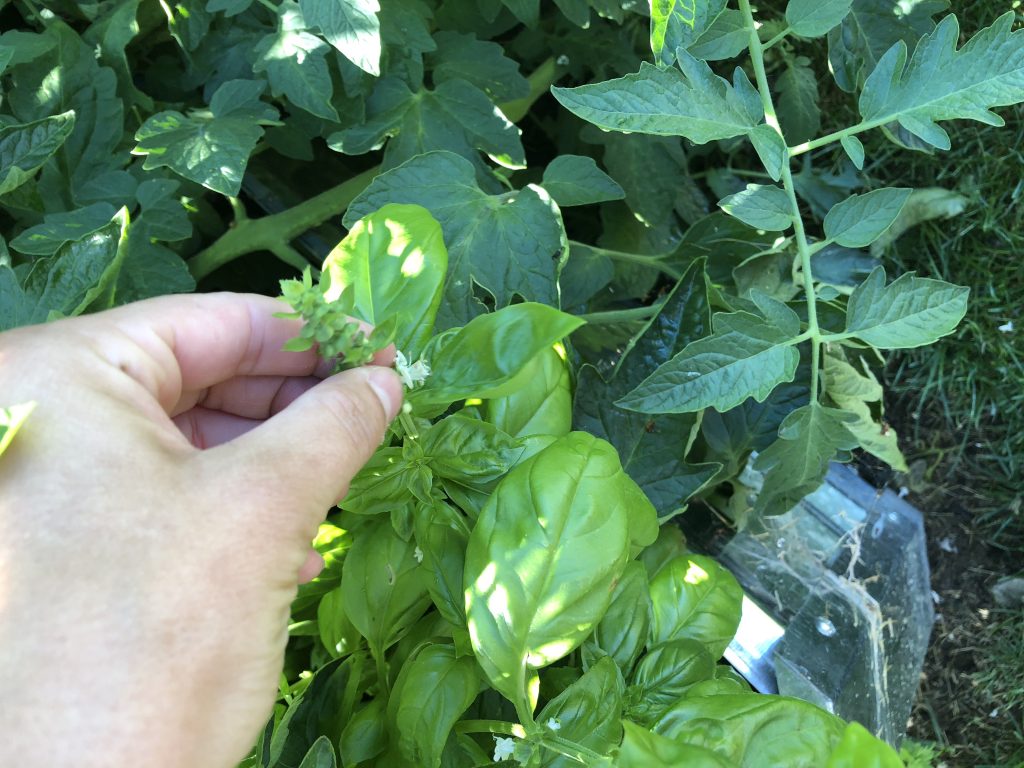 If I am doing the cooking I am all about it being simple and easy, especially in the summer.  I am sharing three of my go to recipes featuring basil.  The first is a favourite of mine for an easy dinner; the frittata.  It's great paired with a salad and is packed with protein and fresh veggies. Plus the basil is a star in this recipe adding that fresh summer flavour.
Fab Fresh Frittata
8 eggs
1 cup shredded cheese of your choice (I use sharp cheddar)
1/2 cup chopped fresh veggies (I use asparagus, mushrooms, onion and tomatoes)
1/4 cup chopped fresh basil
2 tbsp water
1 tsp Cindy's Garlic Olive Oil for greasing the pan
Salt & Pepper to taste
Optional: If you want a little meat, add some bacon bits or finely chopped ham into mixture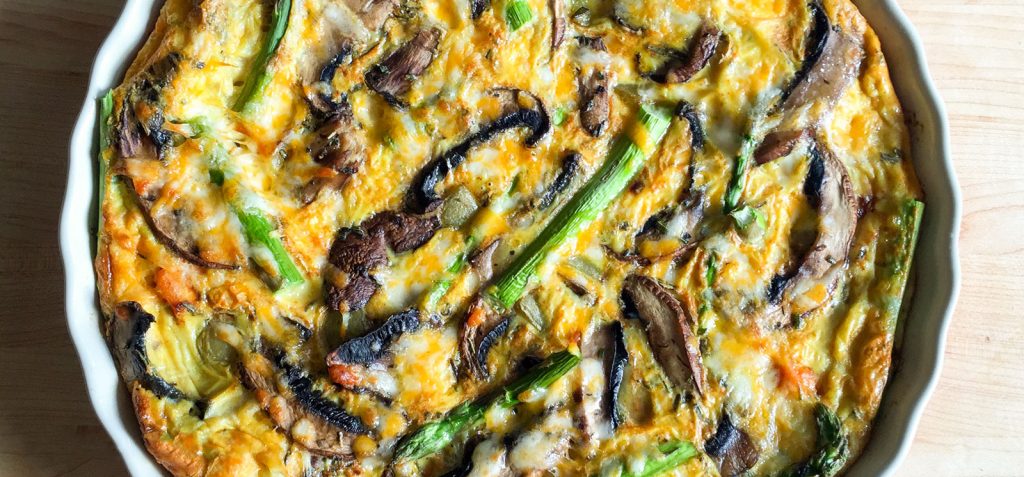 Directions
Heat oven to 350 degrees farenheit.
Precook your mix-ins: meat, mushrooms, onions, asparagus, any veggies that need to be cooked through first.
Whisk eggs and water together until blended (Tip: be careful not to overbeat the eggs! Overbeating will cause the frittata to rise too much in the oven and then fall once it's cooled).
Mix eggs, basil, veggies, meat, salt and pepper and 1/2 cup of cheese.
Pour into a greased pie plate or small 10″ casserole dish. I grease with Cindy's Garlic Infused Olive Oil as it gives it a nice hint of garlic to the frittata.
Bake for 30 minutes. The top should be puffed and golden brown.
Remove from the oven and add remaining cheese on top.
Let cool and enjoy with a fresh salad.
When you think of basil most of us think of pesto.  It's great in pastas and on pizza.  I am not a huge fan of pine nuts so my recipe is great for a nut-free option, not to mention it only takes 5 minutes to make!
Easy Nut-Free Basil Pesto
3 cups fresh basil leaves
3 cloves garlic
1/3 cup grated Parmesan cheese
2 tsp fresh lemon juice (to taste)
salt and pepper to taste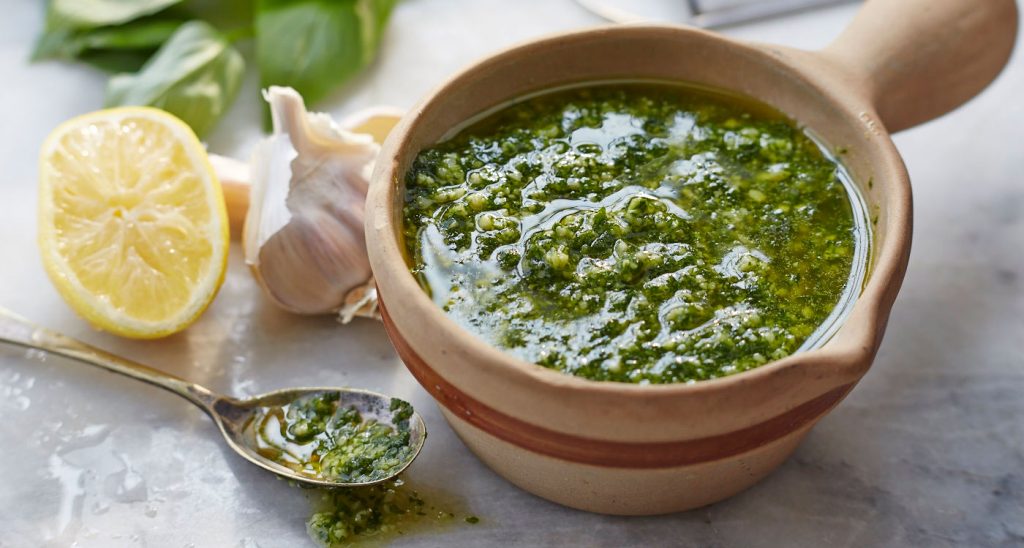 Directions
Chop garlic (Tip: I use the Garlic Zoom as it chops everything evenly & finely!)
In a blender, blend the garlic, basil and parmesan cheese, slowly adding the olive oil while the blender is on until mixture is smooth.
Add lemon juice, salt and pepper to taste.
If you are not using the fresh pesto right away I would suggest pouring the mixture into ice cube trays and freezing. Then, simply pop the amount needed out whenever you need it.
I have a huge weakness for pasta. This recipe is easy as it only takes about twenty minutes to make and the basil adds loads of flavour.
Easy Summer Pasta
1 lb of your favourite pasta (I use spaghetti)
1 cup fresh basil
6 tomatoes of your choice (I use Roma or whatever is available in my garden at the time!)
2 cloves chopped garlic
1/4 cup Cindy's 25 Star Balsamic Vinegar
1/4 cup grated Parmesan cheese
1 tbsp fresh oregano (chopped fine)
salt & pepper to taste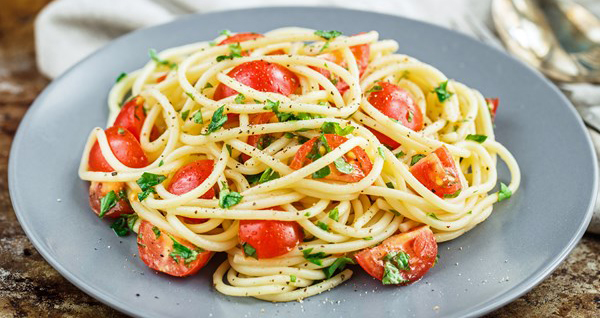 Directions
Prep your ingredients before boiling pasta by chopping the tomatoes, garlic, and fresh herbs.
Boil your pasta.
Saute the garlic in the olive oil and add tomatoes. Cover and let simmer for about 10 minutes, adding the balsamic vinegar, oregano, salt and pepper.
Mix in freshly chopped basil leaves and parmesan cheese with sauce and pasta.
Add extra parmesan if desired.
I hope you enjoy these recipes and that you're interested in growing your own basil!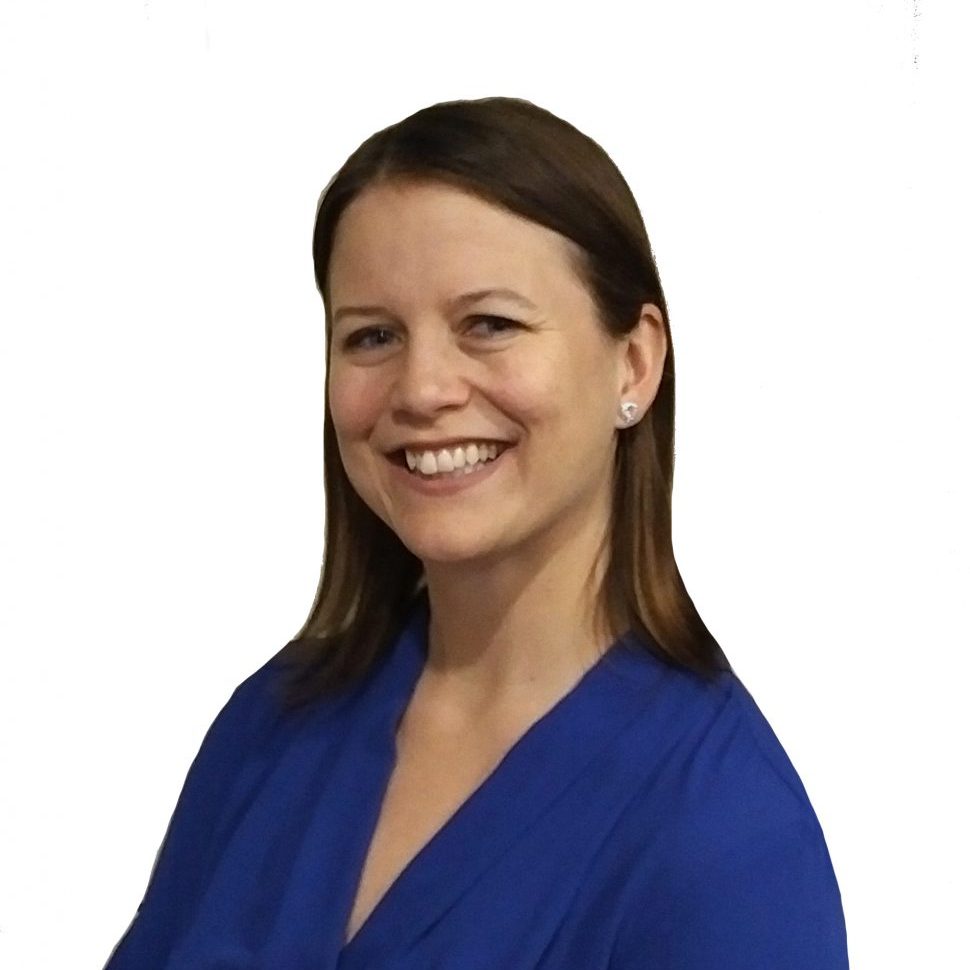 Buyer/Owner